When Morning Star revealed earlier this month that FIL Investments' US High Yield Fund had overtaken Kokusai Asset Management's Global Sovereign Open as the biggest retail bond offering by assets in Japan, the move was widely reported.
Yet an analysis of figures which the country's firms file with its Investment Trusts Association shows that at the financial year end on 31 March the development had failed to make much of a dent in either firm's market share. Indeed, the real spurt for FIL (the name under which as Fidelity operates in Japan) came the year earlier when it leapt from eleventh to seventh place.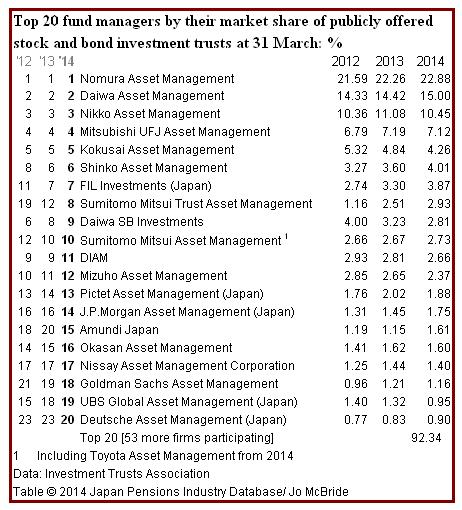 Similarly Sumitomo Mitsui Trust Asset Management's four-place rise from twelfth to eighth this time was far less than the seven-place jump it saw the year before.  (This firm is unrelated to Sumitomo Mitsui Asset Management which came in tenth in market-share terms. )
Nomura, Daiwa and Nikko continue to dominate the field with a combined share of 48.33%. In yen terms Nomura was well ahead with 18,337.0 billion followed by Daiwa with 12,023.4bn and Nikko with 8,371.6bn.
Judged by growth, Capital International, Manulife Asset Management, Rheos Capital Works, Clover Asset Management, Kamakura Investment Management, Chugin Asset Management and Simplex Asset Management all put on more than 100%, though from low bases, in a year when the overall market grew by 10.3%.
For tables showing the top 20 firms  by value and by percentage growth see the 'Japan: Fund managers' area under the 'Rankings' tab at the top of this page.
Aberdeen Investment Management, ITC Investment Partners Corporation, Plaza Asset Management, YMR Fund Services and FuNNex Asset Management appear to have left the field. So too has Toyota Asset Management which has been acquired by Sumitomo Mitsui Asset Management.
2014 Japan Pensions Industry Database/Jo McBride. Reporting on, and analysis of, the secretive business of Japanese institutional investment takes commitment, money and time. This blog is one of the products of such commitment. It may nonetheless be reproduced or used as a source without charge so long as (but only so long as) the use is credited to www.ijapicap.com.
This blog would not exist without the help and humour of Diane Stormont, 1959-2012