The Government Pension Investment Fund has changed the allocation targets of its 126.6 trillion yen portfolio to 25% Japanese stocks (up from 12%), 25% foreign stocks (12%), 15% foreign bonds (11%) and 35% domestic bonds (60%) with no stated level for short-term.
GPIF announced the changes today immediately after the Bank of Japan said it would now aim for maintaining an expansion in the monetary base of 80tr yen, against 70tr previously, a process achieved largely by buying domestic bonds.
Both moves are aimed at kicking the stock market, inflation and the economy back onto more positive tracks – with the last benefiting from a fall in the value of the yen caused by increased outflows of capital from the Fund into investment markets abroad.
There is as yet no sign of the mooted economic restructuring which will be needed to provide momentum but other one-off moves, from the big three mutual aid associations, Japan Post Insurance and Serama, are waiting in the wings.
The shift at GPIF will put an additional 16.5tr yen into the stock market over the medium-to-long term. As Fund rebalances, it will allow its domestic equities holdings to deviate from their target by 9% (previously 6%) and local bonds by 10% (8%).
MAAs, Japan Post Insurance, Serama – it all adds up
A further 2.6tr will flow into local stocks if the three big mutual aid associations — those for local government officials, national public service personnel and private school employees –- follow GPIF's lead, as they are expected to do.
Riches of even greater proportions could come from Post Office Insurance, part of the Japan Post Group which is due for an IPO next year, as it currently has none of it 85.804tr yen of assets in equities.
Similarly Serama (the Small Enterprise Retirement Allowance scheme) has 4.3tr yen of holdings – none of it in stocks.
So the government has much firepower to left to unleash after that from GPIF.
Many in the market guess that the Fund will implement the changes over be 2-3 years but there is no official word on the matter and it could be as long as five. This raises the interesting question of the value of the total portfolio to be allocated at that time.
Past the tipping point
GPIF is now in its decumulation phase with the number of retirees it serves rising every year while the number of contributing members falls. This will prevent domestic bond holdings from going much below 35% as it provides the liquidity from which pensions are paid.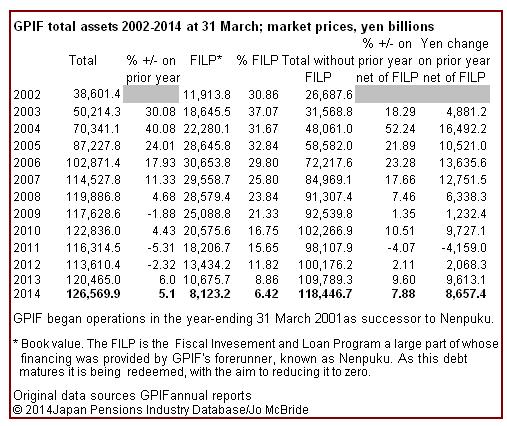 Until the close of the past decade the value of the Fund's portfolio was rising steeply as large blocks of capital moved under its control. When that phase ended it hit two years of poor returns and these combined with growing liabilities saw it shrink.
Better investment days then returned but the demographic trend has continued unstoppably.
The pensions behemoth says very little about its liabilities and any shortfalls it encounters are made up from tax receipts and, once inflation returns, via an 'automatic adjustment mechanism' (also called an automatic balancing mechanism).
But asset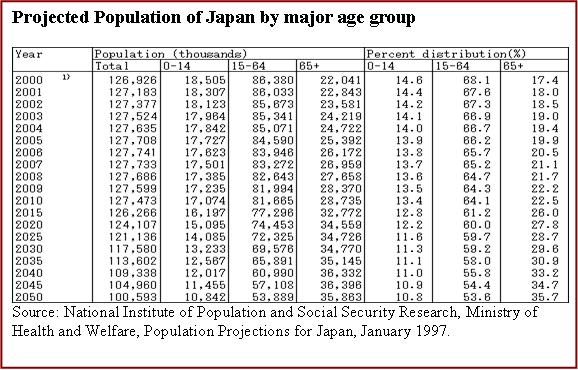 managers and brokers looking for its business, or to the trends it is likely to set, are eventually likely to see as many stories about GPIF selling stocks to pay for pensions as they do today about it changing its asset allocation to improve returns.
In five years time will 25% of the portfolio be as much as it is today?
© 2014 Japan Pensions Industry Database/Jo McBride. Reporting on, and analysis of, the secretive business of Japanese institutional investment takes commitment, money and time. This blog is one of the products of such commitment. It may nonetheless be reproduced or used as a source without charge so long as (but only so long as) the use is credited to www.ijapicap.com.
This blog would not exist without the help and humour of Diane Stormont, 1959-2012