On 31 March 2014, Japan's asset management market was nearing a mighty 1.5 quadrillion yen (then US$ 14.25 trillion).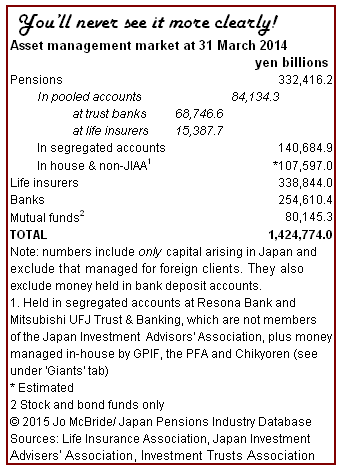 Yet by the close of the calendar year on 31 December the Nomura Research Institute was noting in its annual report on the sector that the country "currently does not have many products that can be called promising from the standpoint of their outward characteristics".
The authors of the study demonstrate the point by providing diagrams (see below) showing the state of supply and demand in each of the three segments they address, pensions, retail and financial institutions, and, they ask, "Can asset management companies adapt to the changes afoot?"
NRI's reports are well known to industry veterans and should be read by more newbies. Produced every year since the 2010/11 edition – which followed a hefty inaugural volume in 2006 – they are generously made available here free–of-charge, presumably to promote the Institute's business in advising asset management companies.

The work is based on annual surveys of the fund firms' priorities together with analyses of statistical sources which can throw light on likely trends. This time round questionnaires were distributed to 66 firms, 37 Japanese and 29 foreign, between July and September 2014.
The results are sparkling.
After years of noting no growth in what nonetheless remained a very large market, NRI found actual and potential expansion everywhere – though some of it arises from cross currents which will take skill to navigate.
Managers' margins have already climbed to 30% — almost back to their peak of seven years earlier.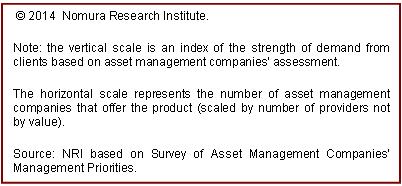 As already reported on ijapicap, defined-benefit pension assets under management at member firms of the Japan Investment Advisers' Association rose 13.58% in the year ending 31 March 2014 (see archive June 2014 Segregated DB pensions hit 100tr yen, foreign managers shine).
NRI says this was the product of a 17.5tr yen inflow, thanks to asset price appreciation, countering a 5.8tr outflow which was "presumably largely attributable to EPFs [Employee Pension Funds] that are preparing to dissolve" – one of the trends which is set to continue.
Meanwhile the introduction in 2014 of NISAs (Nippon Individual Savings Accounts), which carry tax advantages, transformed the nature of demand in the retail market. Respondents to the Institute's survey expect this trend to continue with 31.2% expecting the amount of such holdings to exceed 10tr yen by 2019. Others expected less but 6% plumped for a rise to 20tr yen.
Among financial institutions, banks have historically regarded securities investment as a parking place for surplus funds but since 2012 have come to see it 'as a core source of profit', says the study. In the 2013/14, however, their holdings were 30tr yen lower than the year before thanks to 'the BOJ's unconventional monetary policy launched in April 2013'.
Even banks with in-house expertise rely on outside advice
City and second-tier as well as regional banks are now seeking international diversification but through different routes. The city institutions, despite having in-house expertise, 'heavily rely on AMCs' [asset management companies'] analytical capabilities while their smaller brethren go overseas through private investment trusts.
Life insurers securities portfolios rose 6.8tr yen in 2013/14 only one third as much as in the previous term. Holdings of Japan Government Bond (JGB) holdings, which have long made up the bulk of the life cos' investments, rose by only 1.0tr yen while foreign securities climbed by 5.5tr yen.
With a former mismatch between assets and liabilities now closing, through purchases of the new long-maturity JGBs, the firms may now 'place priority on downside protection … by diversifying into assets with varying risk profiles and little mark-to-market impact (e.g. infrastructure, foreign credit) keeping interest-rate risk contained within a tolerable range'.
Twenty years of repeated change
The asset management industry has adapted to successive tides of change since 1995 when it was first allowed to operate outside of securities companies, trust banks and life insurers.
As this new order was coming into force dominoes fell when the Bank of Tokyo was forced into marriage with Mitsubishi Bank in 1996 and Nissan Life collapsed a year later. Both started waves of consolidation and re-consolidation which distracted management and did not end until 2013/14.
This allowed foreign firms to take pole positions in fund management and means that asset allocation within the institutions' own portfolios simply stayed as it was.
On the demand side corporate pension funds entered into a fundamental restructuring in 2002 when the supplementary daiko benefit — contributions to which they had previously managed on government's behalf — were handed over to the massive Government Pension Investment Fund, vastly increasing its size.
Corporate pension funds past their tipping point
A rising stock market meant that companies survived new regulations requiring them to make good immediately any hole in their retirement schemes. But with most now receiving much less in annual contributions then they pay out in benefits they are much more aware of the need to keep assets and liabilities in balance and to improve returns.
Now along comes another eddy for the industry to navigate: 500 EPFs have been told by the regulator to close with their assets either being paid out to employees, used to set up other structures or handed to GPIF, swelling its coffers even further.
And in a plea which will resonate in the US and the UK, NRI calls on the Japanese government "to introduce a [defined-benefit] pension scheme to serve as a successor to EPFs or a scheme for sharing risks between companies and their employees."
© 2015 Japan Pensions Industry Database/Jo McBride. Reporting on, and analysis of, the secretive business of Japanese institutional investment takes commitment, money and time. This blog is one of the products of such commitment. It may nonetheless be reproduced or used as a source without charge so long as (but only so long as) the use is credited to www.ijapicap.com.
This blog would not exist without the help and humour of Diane Stormont, 1959-2012