The foreign securities holdings of Japan's 43 life insurance companies were up 12.35% year-on-year at 30 June when they reached 63,822 billion yen while total invested assets rose 2.40% to 345,751bn yen, according to figures just published by the Life Insurance Association of Japan.
Overseas stocks and bonds made up 18.5% of all portfolios, the highest since 2007 when Japan Post Insurance joined the industry group and pushed the proportion down to 13.5% of total invested assets of 320,404bn yen.  Story continues below table.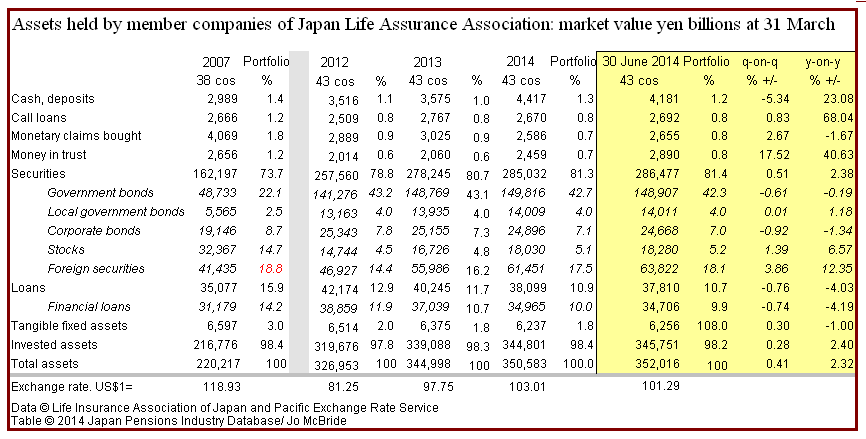 At the close of the prior quarter on 31 March 2014, Japan Post Insurance had foreign securities holdings of 1,519bn yen (see story immediately below) or 2.5% of the all-firms' total.
If JP Insurance bought during the quarter ending 30 June all of the 300bn yen in foreign bonds it indicated it may acquire in the current financial year, that would mean other life cos' overseas holdings have risen by 2,071bn yen — or an amount similar to that of the postal giant at each of the large players.
While all the LIAJ's 43 members submit numbers to it the market is dominated by half a dozen firms. With the start of the financial year on 1 April these giants and their smaller brethren will have begun implementing asset allocation decisions made in the New Year.
In its most recent semi-annual poll of those intentions, Reuters found (see archive 29 April 2014 Life cos tend to caution not big shifts in asset allocation) increased overseas investment to be the only discernible trend. But much depended on the track taken by the Japanese currency.
On 1 April 2014 the yen was at US$1=103.54 (yen 1 = US$0.0096581). By 30 June it had risen by 2.2% to US$1=101.29 (0.0098726) resulting in a comparable impact on foreign holdings at the valuation date. Today the yen was back at US$1=103.74.
It looks as though the long-awaited investment exodus by the life cos may have begun but another couple of quarters will be needed before it can be said to be firmly in place.
© 2014 Japan Pensions Industry Database/Jo McBride. Reporting on, and analysis of, the secretive business of Japanese institutional investment takes commitment, money and time. This blog is one of the products of such commitment. It may nonetheless be reproduced or used as a source without charge so long as (but only so long as) the use is credited to www.ijapicap.com.
This blog would not exist without the help and humour of Diane Stormont, 1959-2012