The US Federal Reserve intends to shrink its balance sheet by not reinvesting in government debt the repayments of principal it will receive as its current holdings of such paper mature, according to an addendum to the central bank's decision to raise the Federal funds rate by 0.25 to 1.25%.
This is very similar to the route taken by the Government Pension Investment Fund in reallocating its assets away from Japan Government Bonds which it has done by waiting until the paper matures and then reinvesting the proceeds in domestic stocks and foreign markets.
Glaringly absent from the Fed's announcement is any indication of what it will do with the proceeds from its redemptions. These will initially be capped at US$6 billion per month for Treasury securities, later rising to a monthly maximum of $30bn, and $4bn per month for agency debt and mortgage-backed securities, later rising to a monthly maximum of $20bn.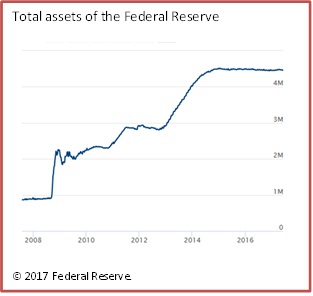 The size of the balance sheet which the Fed is seeking to 'normalize' (it does not say 'shrink') has grown from US$870,261mn on 30 July 2007, before the financial crises, to $4,476,108mn on 5 June 2017, as it has fought to stave off a recession.
Will the billions resulting from what the Fed receives for maturing paper be somehow funneled back to the coffers of the entities which issued it — perhaps by them simply not paying the amount due on redemption? Whatever the mechanism does it amount to cancelling the debt?
Will the Bank of Japan take the same route when the time comes for it get back to 'normal'? If the Fed does it, almost certainly.
© 2017 Japan Pensions Industry Database/Jo McBride. Reporting on, and analysis of, the secretive business of Japanese institutional investment takes big commitments of money and time. This blog is one of the products of such commitment. It may nonetheless be reproduced or used as a source without charge so long as (but only so long as) the use is credited to www.ijapicap.com and a link provided to the original text on that site.

This blog would not exist without the help and humour of Diane Stormont, 1959-2012