The just-published results of the Pension Funds Association's latest annual survey of its members' investment activities provide the best possible complement to Nomura Research Institute's yearly poll of how asset managers see the outlook for their industry which appeared just last week (see Fund managers hit highs but profits harder work from here 9 January below)
Japanese corporate retirement schemes are seriously secretive and organised data on them is scarce and sparse so the almost simultaneous appearance of two authoritative reports (which typically appear months apart) feels like a bit of a bonus.
The information in both is as of 31 March 2016, the close of the most recent financial year.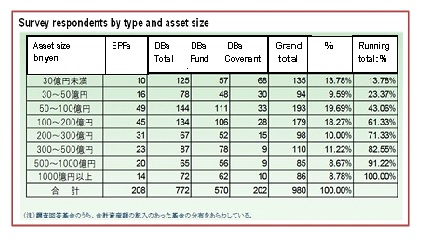 Not all pension funds are members of the Association. It currently embraces 157 Employee Pension Funds (EPFs, which are defined-benefit arrangements) , 655 Fund-type DB schemes (from a total 678) and 331 Covenant-type DB plans (from a total of 12,942). Nearly all of them responded to the survey as shown in the table above.
For more detail about fund types and other useful background please see the posting on a earlier PFA annual survey  95 trillion yen market yields up some of its secrets archive 15 June 2015.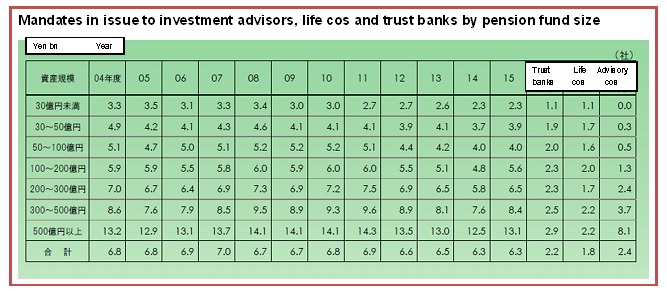 © 2016 Japan Pensions Industry Database/Jo McBride. Reporting on, and analysis of, the secretive business of Japanese institutional investment takes big commitments of money and time. This blog is one of the products of such commitment. It may nonetheless be reproduced or used as a source without charge so long as (but only so long as) the use is credited to www.ijapicap.com and a link provided to the original text on that site.

This blog would not exist without the help and humour of Diane Stormont, 1959-2012