The Government Pension Investment Fund closed the first quarter of the 2014-15 financial year on 30 June with 47.63% of its portfolio invested in the Japanese bond market compared with 49/01% three months earlier.
The giant vehicle's holdings of FILP (Fiscal investment and Loan Programme paper) also continued to fall on the schedule set when the former Nenpuku became GPIF in 2002.
As a result, overall holdings of Japanese debt fell from 55.43% of end-March total assets of 126,577.1 billion yen to 53.36% of 127,264bn yen, a drop of 2,249.4bn yen. Text continues below charts.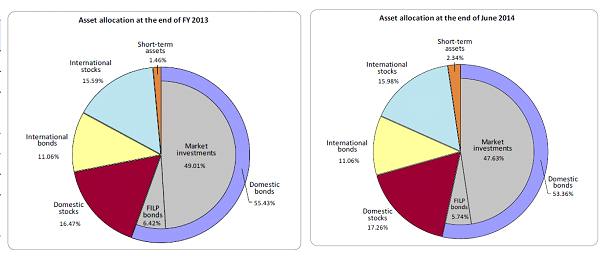 The biggest beneficiaries were short-term assets which rose from 1.46% to 2.34%, to stand at 2,973.7bn yen, and Japanese equities which climbed from 16.47% to 17.26% to 21,070.9bn yen – a jump of 1,124.3bn yen.
There has been a widespread belief among Japan's asset management community that GPIF would raise its target allocation to stocks to 20%. If its buying has been maintained during July and August, as seems likely, and continues into September, then by the end of the second quarter it will have only 2% to go.
That would mean another 2tr yen flowing into the market – around the same amount that the three mutual aid associations which move under GPIF's umbrella next year are also expected to commit to equities (see archive 11 August 2014 Big three mutual aid associations ready to line up with GPIF)
The more interesting point from here on will be how much all four funds will send abroad. According to the Nikkei on 30 August:
'With the GPIF revising its investment strategy and mutual aid pension funds expanding their overseas portfolios, associated yen-selling from July onwards will reach at least 13.7 trillion yen, according to an estimate by Goldman Sachs Japan.
'"Expectations of an onslaught of yen sales is pushing the drop in its value," said Goldman's Masahiro Nishikawa."'
© 2014 Japan Pensions Industry Database/Jo McBride. Reporting on, and analysis of, the secretive business of Japanese institutional investment takes commitment, money and time. This blog is one of the products of such commitment. It may nonetheless be reproduced or used as a source without charge so long as (but only so long as) the use is credited to www.ijapicap.com.
This blog would not exist without the help and humour of Diane Stormont, 1959-2012