The in-house team at the Government Pension Investment Fund remained GPIF's biggest asset manager by far in the year ending 31 March 2015 — even after paper issued by the government's Fiscal Investment & Loan Program (FILP), which it holds to maturity, and the shrinking size of the Fund's domestic bonds portfolio paper are taken into account.       Text continues below table.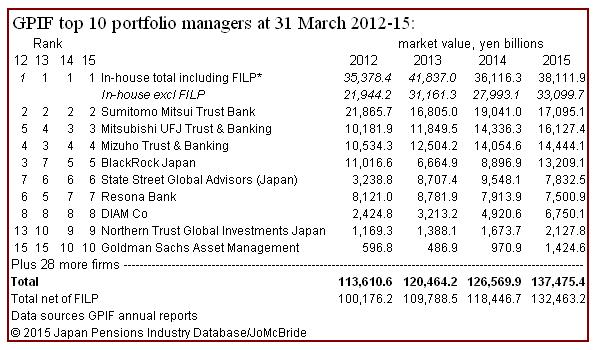 All the firms who featured in the top ten last time have also retained their positions but further down the ranking matters are not so stable with seven firms appearing in the list for the first time.
An updated table showing which funds manage what assets classes for the fund along with a full overall league table by amounts has just been posted in the GPIF section of 'Giants'  (see tab to the right above).
© 2015 Japan Pensions Industry Database/Jo McBride. Reporting on, and analysis of, the secretive business of Japanese institutional investment takes commitment, money and time. This blog is one of the products of such commitment. It may nonetheless be reproduced or used as a source without charge so long as (but only so long as) the use is credited to www.ijapicap.com.
This blog would not exist without the help and humour of Diane Stormont, 1959-2012