When Mizuho Asset Management, Shinko Asset Management, DIAM and some institutional investment activities carried on by Mizuho Trust & Banking combine next year to form a new firm owned 51% by Mizuho Financial Group and 49% by Dai-ichi Life Insurance the segregated money segment of Japan's pensions management market will almost certainly get a new number one player.
First reported in March the recently confirmed venture, which has yet to be named, aims to
be in business by the first half of the 2016-17 financial year which means before 30 June next year. Today Mizuho wholly owns all the entities involved except for half of DIAM which is held by Dai-ichi Life.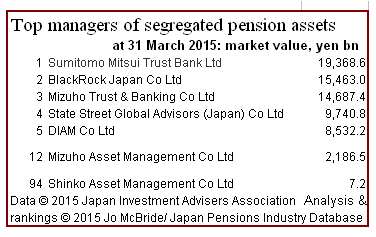 At the end of the financial year on 31 March the leading manager of segregated government and corporate pension plans was Sumitomo Mitsui Trust Bank with 19,368.6 billion yen of such funds in its stewardship. Second came BlackRock with 15,463.0bn yen followed by Mizuho Trust & Banking at 14,687.4bn yen. DIAM came in at fourth at 9,740.8bn yen. Mizuho Asset management put on a reasonable show at 12th with 2,186.5bn yen while Shinko — whose strength is in mutual funds which are called investment trusts in Japan — came in 94th at 7.2bn yen.
This gives the four soon-to-merged units a combined 25,413bn in mandates well ahead of Sumitomo Mitsui Trust's 19,085.9bn yen.
Join hands and go to No 1
Mergers have long played a decisive role in determining the segregated market's leaders.
When asset management companies were first allowed in to the pension business – previously the exclusive province of life insurers and trust banks offering pooled accounts  – in 1995, foreign firms took the lead as Japanese firms had yet to learn the necessary skills.
As they were doing so Japan's banking and insurance sectors were forced into rounds of consolidation and re-consolidation which lasted two decades and saw the disappearance of many famous names.
The attrition began in 1996 when Fuji Bank was unable to support its Yamaichi Securities subsidiary which was declared bankrupt. Eventually Fuji, Dai-ichi Kangyo Bank, the Industrial Bank of Japan and Yasuda Trust and Banking formed Mizuho. In the insurance industry saw April 1997 Nissan Life collapse and start a widespread realignment which produced the giant groups that are now looking to expand abroad.
The latest move by Mizuho could be seen as simply an end-stage tidying up already done by some other composite financial institutions faced with running three or four asset management firms started by their components.
Wells Fargo begat BGI begat BlackRock …
Meanwhile the trust banks whose privileged role in pensions management kept them on a sounder footing have become the corner stones of new banking groups.
Among the foreign leaders was Wells Fargo and its takeover by Barclays Global Investors helped push BGI to the top of the list where it reigned supreme until Industrial Bank of Japan and Dai-ichi Kango Insurance formed DIAM.
BGI and DIAM then duelled it out until Black Rock acquired BGI and took over its top slot before being replaced, in turn, by Sumitomo Mitui Trust Bank — the result of a merger between Mitsui Trust & Banking and Sunitomo T&B (which took in Sakura T&B along the way) that had moved beyond the pooled business and into managing mandated money as well.
Whether the new venture includes the management of pensions money in pooled funds, in which Mizuho T&B ranks third at 7,670.9bn yen, is not yet known. Keeping these funds under the Mizuho T&B banner seems more likely since it it that entity which has the Ministry of Health, Labour & Welfare's authorisation to act as serei shitai hogin [sokanji or pension fund organiser] which makes it both a well-informed and powerful gatekeeper on the direction of of its clients' investments. The consulting firm IIC Partners is the only non-trust bank, non-life co known to have such a licence which has not been granted to any fund managers.
Leading at home, going abroad
DIAM used to set great store by bring number one in Japan which it saw as a stepping stone to expanding abroad. That is a goal which Mizuho Financial Group shares. In 2010 it paid US$400mn for a 2% stake in BlackRock and on 30 September it announced it would acquire 15% of San Francisco-based Matthews Internatonal Capital Management which invests mostly in Asia.
In terms of mutual fund business the four-part venture coming onstream next year will have around 8.8tr yen and thus rank fourth after Nomura which at 31 March this year had 23,264.8bn yen, Daiwa with 14,346.6bn yen and MU Asset Management which belongs to Mitsubishi UFJ with 6,571.0bn yen.
© 2015 Japan Pensions Industry Database/Jo McBride. Reporting on, and analysis of, the secretive business of Japanese institutional investment takes commitment, money and time. This blog is one of the products of such commitment. It may nonetheless be reproduced or used as a source without charge so long as (but only so long as) the use is credited to www.ijapicap.com.
This blog would not exist without the help and humour of Diane Stormont, 1959-2012