Updated multi-year analyses of which fund management firms were managing what assets for the Government Pension Investment Fund at the close of the financial year close 31 March 2014 are now available under the ''Giants' tab above, or can be accessed here and here.
The top ten firms remain much the same as in the preceding term but the most interesting aspect of the numbers is the big shift from active to passive investment – with some nippy newcomers joining the mix.
Eight firms fell off the roster of those actively managing domestic equities but  were replaced by a further eight, plus a returnee, even as the amount managed this way fell by 31.2% to 2,564.1bn yen.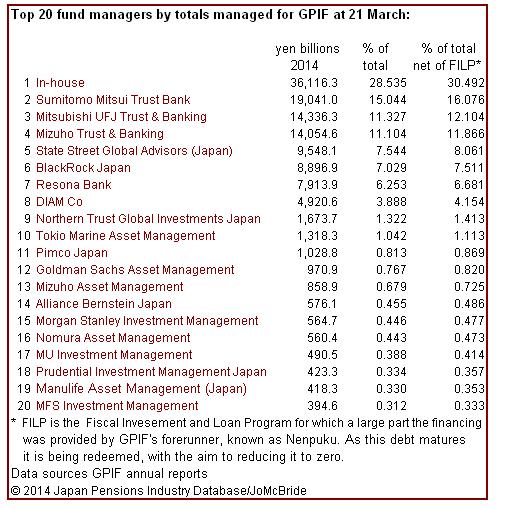 Capital International, Eastspring Investments (owned by the UK's Prudential), Natixis Asset Management Japan, Russell Investments Japan, Seiryu Asset Management and Wellington International Management all joined the Fund's roster for the first time while Goldman Sachs Asset Management and Nomura Funds Research & Technologies, which already have GPIF business, were added in the active equities category.
Since the close of the year the Fund has announced more such appointments and confirmed its new approach.
Even so, the amount under active management is dwarfed by the passive portfolio which swelled 32.1% during the year to reach 18,277.5bn yen and with the mandates formerly held by a trio of firms not being renewed the business is now handled by just five.
International stocks under passive management also rose over over 30% to reach 17,634.4bn yen compared with a 6.3% rise, to 2,096.1bn yen, in actively managed accounts.
 © 2014 Japan Pensions Industry Database/Jo McBride. Reporting on, and analysis of, the secretive business of Japanese institutional investment takes commitment, money and time. This blog is one of the products of such commitment. It may nonetheless be reproduced or used as a source without charge so long as (but only so long as) the use is credited to www.ijapicap.com.
This blog would not exist without the help and humour of Diane Stormont, 1959-2012