Investment assets at Japan's 43 life insurance companies rose in the October-December 2014 quarter by 2.09% to reach 366.070 billion yen while the overall disposition of portfolios remained roughly the same with government bonds accounting for 40.7%, or 44.5% when local government bonds are included.
The numbers come from the Life Insurance Association of Japan and show that the greatest growth during the term was in holdings of call loans which jumped 16.97% quarter-on-quarter to make for a year-on-year change of 67.1% — still only enough to push the proportion of portfolios for which they account to 0.9%.
The closely watched 'foreign securities' component rose by 7.11% – insufficient to offset the 9.3% decline in the value of the currency against the US dollar during the period.
Story continues below table.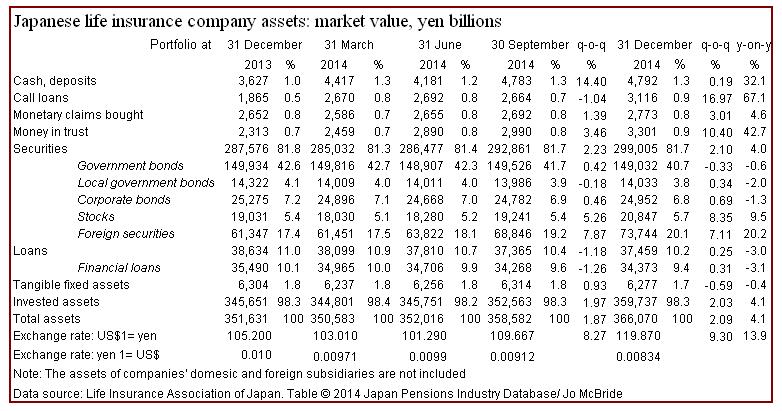 The sector is dominated by a handful of big domestic participants with Japan Post Insurance as the behemoth followed in asset terms by Nippon Life. However this month saw Dai-Ichi Life, the first firms to go public, overtake Nippon in terms of premium income. The other big players nestle within the MS&AD Financial Group,  NKSJ Holdings and Tokio Marine Holdings.
Having now exited years of restructuring, which began with the collapse of Nissan Life in April 1997, the firms are in robust health and bent on expanding abroad through acquisition to compensate for declining domestic demand as the country's population falls.
See Japan's shrinking insurance sector in the 'Reference points' section to the right for details of how today's giant conglomerates came about and the units of which they are composed.
© 2015 Japan Pensions Industry Database/Jo McBride. Reporting on, and analysis of, the secretive business of Japanese institutional investment takes commitment, money and time. This blog is one of the products of such commitment. It may nonetheless be reproduced or used as a source without charge so long as (but only so long as) the use is credited to www.ijapicap.com.
This blog would not exist without the help and humour of Diane Stormont, 1959-2012