What was that about two rainy, tea-drinking, monarchies on islands near continents they have historically feared but from where much of their culture comes?
Mrs Watanabe has discovered the other one.
At 1,034.4 billion yen on 31 March, retail mutual funds' holdings of sterling-denominated securities were almost 58% up on the level at the close of the previous financial year, an analysis of figures from the Investment Trusts Association shows.
Holdings in other major foreign currencies did not rise at anything like this pace — even when the 21% of the lift attributable to the rise in the value of sterling against the yen the during the term is discounted.
Meanwhile holdings in the poor old euro are down by 97.2% compared with a total foreign investments decline of 8.3% in yen terms.
Bonds accounted for the largest share of British investments at 58.8% while 21.6% was in stocks and 17.9% in 'investment securities', not further defined, and the rest in 'other'.
US investment were distributed 35.1% to bonds, 15.0% to stocks, 42.3% to investment securities while bonds took up a hefty 82.2% of Canadian investments.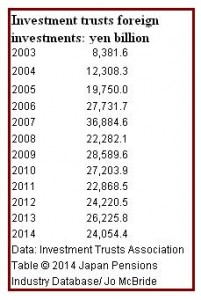 The full figures can be seen here.
© 2014 Japan Pensions Industry Database/Jo McBride. Reporting on, and analysis of, the secretive business of Japanese institutional investment takes commitment, money and time. This blog is one of the products of such commitment. It may nonetheless be reproduced or used as a source without charge so long as (but only so long as) the use is credited to www.ijapicap.com.
This blog would not exist without the help and humour of Diane Stormont, 1959-2012
.