The Government Pension Investment Fund is embarking on two consultation initiatives designed to strengthen the part GPIF plays in the investment chain and, through interactions with other players, help set the Japanese economy on a path to sustainable growth.
The twin moves are announced in a statement which is notable for its English-language version including the term 'fiduciary duty', a concept fundamental to investment regimes elsewhere but of which Japan still lacks a legal definition.
Text continues below illustration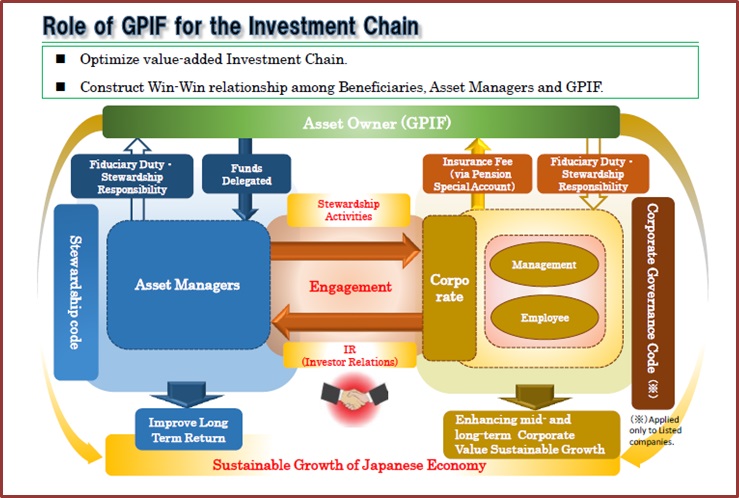 A new Business and Asset Owner's Forum is the result of the Fund receiving a proposal from 'many' companies, including Omron Corp, Eisai Co and Nissan Motor Corporation, to meet regularly with it 'as an asset owner' (and presumably one which holds their shares).  The first such gathering will be in September and about ten companies are expected to attend. As the Fund appears to be the only owner involved the group it might be better named the Business and GPIF Forum.
The Global Asset Owners' Forum to be set up later this year will consist of around 20 asset owners including:
From North America CalSTRS, CalPERS, State Board of Administration of Florida, State of Wisconsin Investment Board, The Regents of the University of California and the Ontario Teachers' Pension Plan.
From Europe the UK's Universities Superannuation Scheme and Legal & General Investment Management and from the Netherlands PGGM and APG.
GPIF notes that these players have already developed sophisticated approaches to ESG investing [in which environmental, social and governance considerations are systematically included in stock selection] and hopes to utilize their expertise in that regard in developing discussions with its own fund managers and non-Japanese asset owners.
© 2016 Japan Pensions Industry Database/Jo McBride. Reporting on, and analysis of, the secretive business of Japanese institutional investment takes big commitments of money and time. This blog is one of the products of such commitment. It may nonetheless be reproduced or used as a source without charge so long as (but only so long as) the use is credited to www.ijapicap.com and a link provided to the original text on that site.

This blog would not exist without the help and humour of Diane Stormont, 1959-2012