As the Financial Services Agency moves towards imposing fiduciary duty of some kind on Japan's investment sector, the route through which its writ will run seems to be alarmingly narrow.
Just as the 'stimulus' predicted from Abenomics looks today to be limited solely to the boost from the 2020 Tokyo Olympics, so responsibility for upholding an as-yet-undefined fiduciary standard across the whole investment chain now seems to be falling solely on the shoulders of country's asset management firms.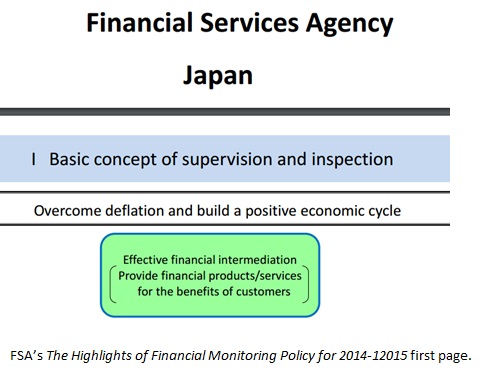 A connection drawn between the two in a paper giving The Highlights of Financial Monitoring Policy for 2014-12015 and on the FSA's web site, may mark the point at which things start to go wrong. It notes that the 'Basic concept of supervision and inspection' is to 'Overcome deflation and build a positive economic cycle' but this is surely the task of economic policy not of financial regulation.
In his contribution to the 1 June meeting of the Council of Experts Concerning the Follow-up of Japan's Stewardship Code and Japan's Corporate Governance Code, Kazuhiko Toyama offers an even loftier idea saying:
"Fiduciary duty is a fundamental social norm that ensures the optimal capital allocation of funds, particularly risk money, to the growth sectors and businesses in order to connect the capitalist system to the accumulation of national wealth, particularly, household assets".
Oh no it doesn't.
Moreover if this is what Japan's financial regulators expect fiduciary duty to achieve then they are destined to be disappointed and it is no surprise that they have for decades failed to define it — despite the country having long been home to the world's second largest pool of job-based retirement savings and huge insurance-company investments.
As the handy online Business Dictionary puts it, fiduciary duty is: "A legal obligation of one party to act in the best interest of another. The obligated party is typically a fiduciary, that is, someone entrusted with the care of money or property. Also called fiduciary obligation."
Financial intermediaries in, pension sponsors out
Meanwhile the guys at the FSA's market's division seem rather more on the ball, concluding their Agenda for financial markets and exchanges in Japan with: "JFSA will review whether financial intermediaries (my emphasis) that produce/distribute/manage financial products such as investment trusts and savings-based insurance products put customers' interests first".
Even this misses the opportunity bring into the Japanese context the examples provided by the USA's 1974 Erisa legislation (Employee Retirement Retirement Income Security Act) and the recommendations of the UK's 2012 Kay Review, both of which are quoted earlier in the text.
Enacted in the wake of automaker Studebaker-Packard's 1974 bankruptcy which, in turn, torpedoed the company's retirement scheme, Erisa imposed a fiduciary duty on companies sponsoring pension funds — the first link in the investment chain, and a mighty big link at that.
Yet corporate pension funds' responsibilities to their members is never mentioned in Japan's debate which is taking place almost entirely within the context of its newly introduced stewardship code and, to a lesser extent, its new corporate governance code.
One FSA paper does note early on that the "concept of fiduciary duty is important for the whole investment chain" (again, my emphasis) but it then goes on to focus simply on potential conflicts of interest at asset managers.
With the codes already limiting the parameters of the debate the potential conflicts of interest at corporate pension funds are never mentioned — but they are legion.
Sponsors too must wrestle with conflicts of interest
Do pension fund staff come under pressure from sponsors to invest in companies which management wants to support? Are they asked to take over investments being shed because they make the extent of a sponsor's cross holdings look bad? Do they come under pressure to invest in sponsor's stock.
Who knows? Would the majority of pension fund staff know that such requests should trigger a whole slew of questions about whether the moves would be 'in the best interests' of the members"?
Corporate pensions staff are very rarely experts and remain subject to their employers' job rotation requirements so are often moved on to other posts after three years.
If the FSA is serious about the practice of fiduciary duty then a very good place to start would be with intensive training for companies' pension fund staffs and putting pressure on their employers to allow them to remain in their posts for much longer.
Instead it began by imposing on assets managers a requirement to work with investee and probable investeee companies to get them on the right track when they believe the firms' strategies are going wrong. They are not designed to do this work in Japan or anywhere else. It is the job of management consultants.
The firms' task off reporting to trust banks and life companies on the money sub-mandated to managers from them from the huge pooled pension funds businesses has also become more time consuming thanks to new requirements
So it is no surprise that the Nikkei's coverage of a well attended symposium held on 15 September at the university of Tokyo was headlined "Japan's finance industry fears new fiduciary rules."
The new regulations are falling heaviest on the one component of the investment business to have a large foreign-owned segment.
And their implementation is not likely to 'overcome deflation and build a positive economic cycle' though with a giant dollop of luck, and the Olympics, two may coincide.
© 2016 Japan Pensions Industry Database/Jo McBride. Reporting on, and analysis of, the secretive business of Japanese institutional investment takes big commitments of money and time. This blog is one of the products of such commitment. It may nonetheless be reproduced or used as a source without charge so long as (but only so long as) the use is credited to www.ijapicap.com and a link provided to the original text on that site.

This blog would not exist without the help and humour of Diane St