Japanese stock brokers' research and advisory services won more votes from financial intermediaries than the Tokyo units of their overseas-headquartered competitors in a survey undertaken by Greenwich Associates and just published by the Boston-based firm.
Nomura Securities topped the poll followed by Daiwa Securities and Mizuho Securities.
An accompanying report notes that brokers' positioning in research and advisory activities is "a key determinant of [their] overall performance because institutions allocate 60% of their Japanese equity commission payments to compensate the sell side" for providing such inputs.
This is reflected in the part of the poll designed to assess brokers' Japanese equity trading services which again put domestic firms ahead of those from overseas — with Nomura Securities, Daiwa Securities and Mizuho Securities once more in the lead.
This is the second year in succession that local brokers have seen their popularity rise vis-à-vis foreign firms. This time around overseas and offshore clients provided the largest part of the surge in support, thus following the trend set a year earlier by domestic customers.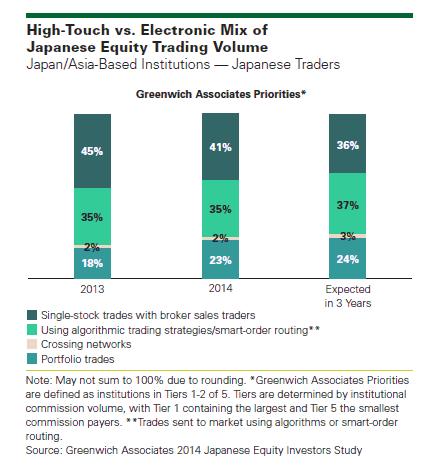 Nonetheless Greenwich notes that "foreign brokers have been able to better defend their market share in trading for one main reason: In one of the world's most electronic marketplaces, foreign firms still have the upper hand in e-trading competition.
"As the accompanying chart shows, only 41% of institutional trading volume in Japanese equities is executed via additional 'high-touch' single-stock trades with broker sales traders. The majority of trading volume is executed electronically via algorithmic trading strategies, smart-order routing, crossing networks, or portfolio trades.
"In the competition for trading volume, global brokers like UBS garner a considerable advantage from their well-established e-trading platforms," says John Feng, one of three Greenwich consultants who worked on the survey.
The improving perception of Japanese firms' capabilities seems to be solidly based with timing playing "an important role in this shift in the competitive landscape as several domestic brokers made significant investment in equities at the same time that a number of foreign brokers cut back.
"After an extended period of weak market performance and anemic flows in institutional trading volume and commission revenues, global banks had started to scale back their Japanese equity operations by 2012–2013.
"Meanwhile, several large Japanese banks were placing big bets by making sizable investments in their own equity research and trading platforms.
"At the same time the new Prime Minister Shino [sic] Abe launched the economic stimulus program that has come to be known as 'Abenomics', which then sparked a resurgence in the Japanese stock market."
That Japanese financial conglomerates turned their minds to investing in their operations when they did may have been the result of 15+ years of repeated rounds consolidation among them coming to end – and so giving management  the time to focus on the future.
The same pattern has already proved true in asset management where Japanese big-hitters overtook their formerly all-conquering foreign counterparts in 2009.
The Greenwich survey was carried out among 163 equity portfolio managers, 135 equity traders and 118 equity derivatives users during July-September 2014.
© 2014 Japan Pensions Industry Database/Jo McBride. Reporting on, and analysis of, the secretive business of Japanese institutional investment takes commitment, money and time. This blog is one of the products of such commitment. It may nonetheless be reproduced or used as a source without charge so long as (but only so long as) the use is credited to www.ijapicap.com.
This blog would not exist without the help and humour of Diane Stormont, 1959-2012