The drama of a general election plus the accompanying stimulus package and an 18-month delay in implementing the consumption tax rise are pushing GPIF's asset re-allocation away from centre stage and lining up another government institution — Japan Post Group –  to take its turn in the spotlight. This will probably happen twice.
Japan Post Insurance currently holds 78% of its 90.5 trillion yen portfolio in 'corporate and government bonds' with the bulk in JGBs. At 1 billion yen its allocation to Japanese stocks is so small that it accounts in percentage terms for nil. Foreign securities account for 1.4% and are thought to contain few, if any, stocks.
This is vastly more skewed away from risk capital than even GPIF's before the Fund's reform when 17.3% of its 67.9tr yen holdings were in Japanese equities and 15.9% in foreign stocks.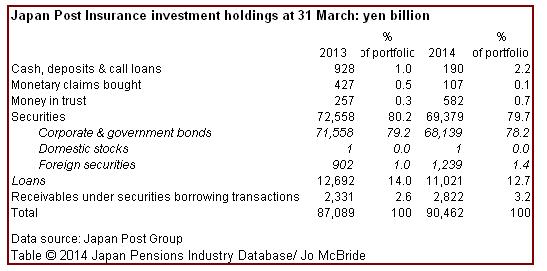 The Fund was contin-uously urged to change that position and the absence of any pressure on Japan Post Insurance to do ditto suggests that government is keeping this up a sleeve from which it will be theatrically produced if interest in the stock market starts to sag.
Just how much might be directed out of JGBs and into equities can be deduced from how Japan's other 42 life companies divide up their portfolios.
The Life Insurance Association of Japan publishes numbers for aggregate holdings of its members using figures supplied by them. Japan Post Insurance is an LIAJ member but can be removed from the totals by deducting the figures published in its annual report.
This exercise shows that industry-wide portfolios net of the postal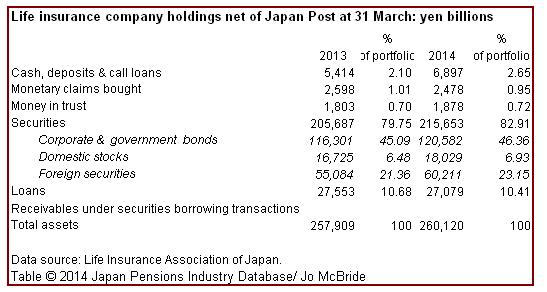 giant were invested at 31 March as 46.4% in corporate and government bonds, 23.1% in foreign securities, 6.9% in domestic stocks.
So if Japan Post Insurance follows the pattern of its peers it will be putting at least 6.3tr yen into the local stock market and it may be more.
With the yen sinking faster than government would like the company may be dissuaded from moving over 20% of its holdings abroad and prompted to put money which would have taken that route into local stocks instead.
It looks as though 2015 will be a high profile year for Japan Post Group in other ways too.
Last week saw 15 companies approved for listing on the Tokyo Stocks Exchange and the proposed listing of the Group next year will allow government to beat the drum for local equities whenever interest looks like turning to other arenas and different dramas.
Please note that the numbers in the text and tables of this posting do not include the assets of companies' foreign or  domestic subsidiaries.
© 2014 Japan Pensions Industry Database/Jo McBride. Reporting on, and analysis of, the secretive business of Japanese institutional investment takes commitment, money and time. This blog is one of the products of such commitment. It may nonetheless be reproduced or used as a source without charge so long as (but only so long as) the use is credited to www.ijapicap.com.
This blog would not exist without the help and humour of Diane Stormont, 1959-2012