Finance and pharmaceutical companies dominate the top 20 defined-benefit Japanese pension funds measured by assets, according to the latest annual ranking from Nenkin Joho using information provided in funds' returned questionnaires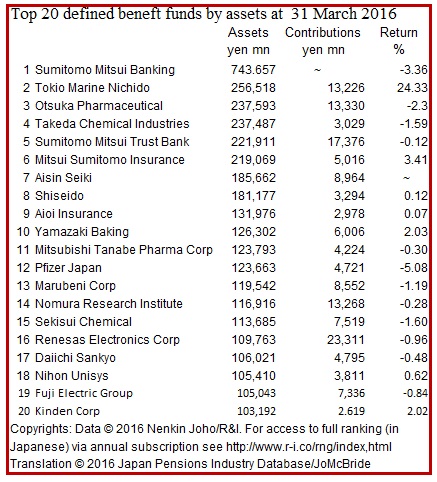 .
Based on 31 March 2016 numbers, the league table covers over 300 entities and the 'returns' column is characterized throughout by minus signs.
Nenkin Joho is the fortnightly newsletter from Rating & information, the actuarial consulting subsidary of the Nikkei group which includes the newspaper and indices of the same name.
As the group is self-selecting, and there are over 13,000 DB schemes, the lacklustre performance cannot be said to represent the entire sector — but that nonetheless seems likely.
This makes the 24.33% return enjoyed by Tokio Marine Nichido, part of Tokio Marine Holdings Japan's largest non-mutual property/casualty insurer, stand out all the more.. The only other positive result in double figures is from 236th ranked Sekisui Plastics whose fund grew by 10.46% during the term to close with 4,215 million yen.
Last year Tokio Marine Nichido ranked ninth among the DBs with assets of 202,746mn yen. (For the top 20 at 31 March 2015 see under the 'Rankings' tab above.)
At about a quarter of the DBs with losses, the decline was under 1% and anything over 3% is relatively rare. Sakai Trading bucked the trend with the highest loss at a negative 8.96% but that follows the previous annual term's positive 19.52%.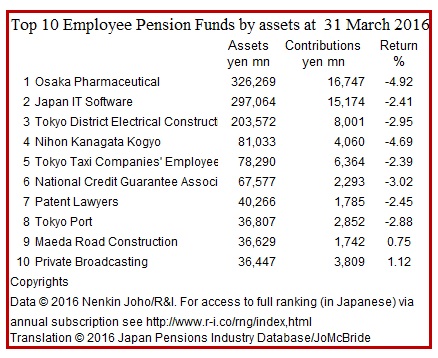 In separate ranking of corporate retirement schemes of the 'Employee Pension Fund' type (which are also defined-benefit) the top slot was taken by Osaka Pharmaceutical, a multi-company arrangement covering firms in the sector, with assets of  326,269mn yen.
There were once over 2,000 EPFs but they are being phased out and only 333 remained at 31 March this year. Of those just 48 responded to Nenkin Joho's questionnaire.
© 2016 Japan Pensions Industry Database/Jo McBride. Reporting on, and analysis of, the secretive business of Japanese institutional investment takes big commitments of money and time. This blog is one of the products of such commitment. It may nonetheless be reproduced or used as a source without charge so long as (but only so long as) the use is credited to www.ijapicap.com and a link provided to the original text on that site.

This blog would not exist without the help and humour of Diane Stormont, 1959-2012