The results of J. P. Morgan's latest annual survey of Japanese corporate pension funds' allocation intentions provide a loud echo of an earlier Nomura Research Institute poll of the products for which fund managers see demand growing.
Both pieces of research strongly suggest mounting opportunities for foreign-headquartered asset management firms with the capabilities in overseas assets that their Japanese counterparts lack.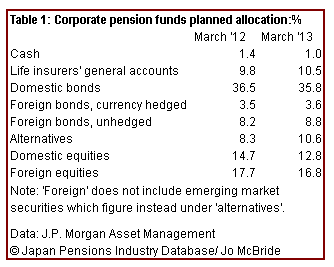 For firms who want to win this business the question is whether to market themselves directly to retirement schemes or to seek sub-advisory work from the powerful trust banks and life insurers with which pension funds have life long sokanji relationships. (These arguments are set out in greater detail in the story immediately below Capturing the flow)
In the financial year begun on 1 April the sample 128 pension funds polled by J. P. Morgan expected their allocations to life insurers' general accounts to rise to 10.5% of assets under management, from 9.8% reported the year before, and to hedged and unhedged foreign bonds to climb to a joint 12.4% from 11.7%. 'Alternatives' saw the biggest jump of all.
The rises come at the expense of retirement schemes' holdings of domestic and foreign equities, domestic bonds, and cash.
The popularity of accounts at life insurers may owe something to their having added dynamically allocated multi-asset strands (see story below under sub-heading Pooled gets sexy) to their co-mingled services.  As table 2 alongside shows, 6.3% of respondents to the survey have already signed up to participate in these.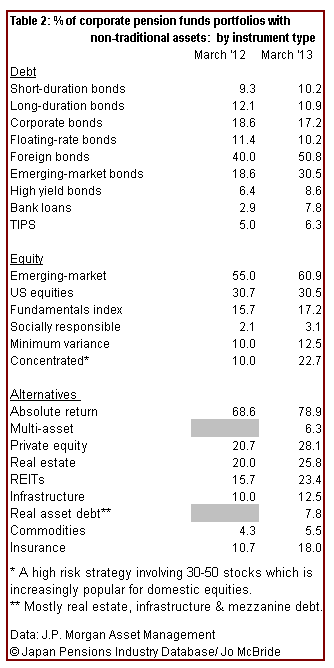 Holdings of unhedged foreign bonds are also forecast to rise faster than hedged – a trend which could strengthen if the Japanese public becomes convinced that the ever-strengthening track of the yen has finally been reversed.  Such conviction is unlikely to arise ahead of the Diet upper House election which is expected in July.
'Alternatives' have been invading corporate pension funds' portfolios from some time – though much of what falls into this category in Japan would be regarded as mainstream elsewhere.
This year J. P. Morgan added 'multi-asset' and 'collateralized debt' to the question in its survey, first conducted in 2008, about what alternatives respondents' portfolios already include.
The results show the specially rapid spread of foreign bonds, emerging-market equities and emerging-market bonds – just the same categories for which participants in Nomura Research Institute's poll foresaw demand rising by 10% annually over the next 3-5 years.
Some caution is needed in reading the numbers in table 2 which show, for example, an almost 80% take-up of absolute return strategies.  This is 80% of the funds shown in table 1 as forecast to put 10.6% of their portfolios allocation to 'alternatives' this year. It is not 80% of the yen amount which 10.6% represents.
A brief report with the results of the J.P. Morgan poll is currently available in Japanese at https://www.jpmorganasset.co.jp/jpec/ja/topics/2013/pdf/pressrelease0424.pdf
© 2013 Japan Pensions Industry Database/Jo McBride. Reporting on, and analysis of, the secretive business of Japanese institutional investment takes commitment, money and time. This blog is one of the products of such commitment. It may nonetheless be reproduced or used as a source without charge so long as (but only so long as) the use is credited to www.ijapicap.com.
This blog would not exist without the help and humour of Diane Stormont, 1959-2012