"The key criterion by which Japanese fund sponsors or asset management companies evaluate external managers is their portfolio management skills. Whether they have a physical presence in Japan is irrelevant…"
"From foreign asset management companies' standpoint, just having a marketing presence in Japan instead of a subsidiary or branch office may be a more efficient approach to entering the market as a subadvisor…"
"The key issue facing foreign asset management companies that already have a physical presence in Japan is not cost control … but how to achieve business success in their operations."
A well-set compass is needed to navigate these words from the Nomura Research Institute's latest report on Japan's asset management sector*. NRI's well regarded studies are based on yearly polls of funds firms' views. This time around 59 responded of which 31 were headquartered in Japan and 27 abroad.
Laying false trails about the prospects for growth has become a habit among firms with an established a presence in the country – especially when addressing possible new entrants to the market.
No sooner had local and foreign asset managers been allowed into the job-based pensions business in 1995 than those able to quickly set up offices in Tokyo were describing the market as "overcrowded".
From the first day of the deregulation foreigners with the right skills roared ahead — helped along by a 15-year rolling restructuring that distracted the new-born Japanese firms' bank parents, reducing their number from 18 to five.
At the financial year end on 31 March 2012, BlackRock was still the leader in pensions management, as it had been since taking over Barclays Global Investors in 2009, and 12 more of the top 25 firms by were also from abroad.
In the same year, the sector produced revenues of 693.3 billion yen, then US$8.41bn, on assets under management of 350 trillion yen – a level at which they had been stuck for four years (and includes money invested in Japan on behalf of foreign clients).
Investment overseas seen rising by 10% p.a.
This lack of new money, and the consequent need to lure business away from competitors, makes NRI's questions about the products for which resident firms see demand growing most all the more significant.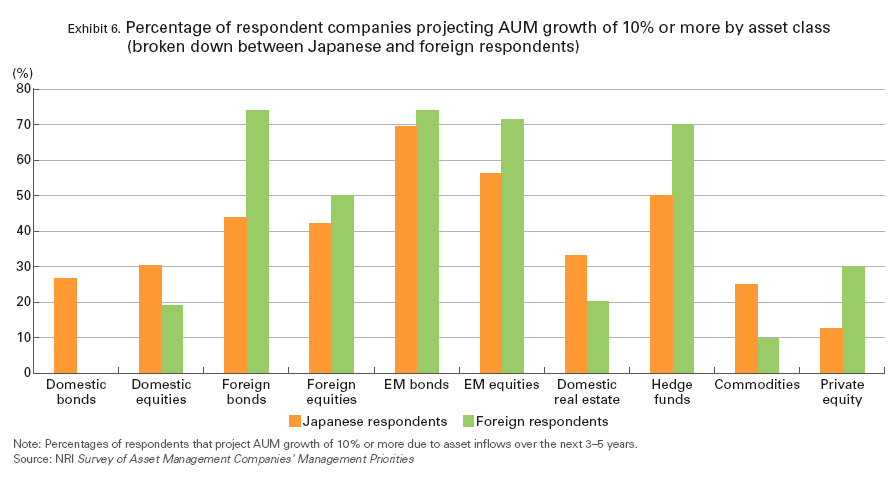 Table © 2012 Nomura Research Institute
Seventy percent or more of the overseas firms polled saw emerging markets bonds, foreign bonds, emerging market equities and hedge funds all enjoying annual growth of over 10% during the next three to five years.
Almost 70% of domestic respondents agreed on emerging market bonds while about 58% agreed on emerging market equities. Half the local asset managers concurred on hedge funds and about 44 percent on foreign bonds.
Forty to fifty percent of firms from both home and abroad saw demand for foreign (non-emerging market) equities growing by 10% or more but, with the exception of domestic real estate, all other segments surveyed won the votes of 30% or less of those polled.
Skills in foreign markets needed
The emphasis on non-Japanese investment is telling, as is the timing of research for the report which was done during August-September 2012. This was well before both the decline in the value of the yen, currently 12% down since mid-November, and the December election which returned to power a party that wants the currency to fall further.
If that drop is achieved, pension funds in search of yield are likely to allocate more of their portfolios to overseas securities. That will, in turn, further depress the yen and create still more opportunities for firms with the expertise in markets abroad that their Japanese competitors conspicuously lack.
J.P. Morgan's yearly survey asking pension funds about their investment intentions, which typically appears in mid- to late-April, may confirm the shape of demand and thereby the prescience of what the aliens told NRI.
As the sector evolves, each foreign asset management firm will have to decide for itself how it can best share with Japanese clients the economies of scale it went overseas to pursue.
As part of that process it will have to examine how best it can divide its marketing efforts between winning:
1) Mandates directly from pension funds;
2) Sub-advisory work from asset managers who hold such mandates; and
3) Sub-advisory work from the trust banks and life insurers which provide retirement schemes with participation in pooled [co-mingled] arrangements.
Who has what
About 75% of Japan's corporate pension assets under management are in pooled  accounts with the rest in segregated.
A ranking of the top 10 asset management firms by the value of segregated corporate mandates held at 31 March 2012 is here. Note that each firm's number includes sub-advisory work from main mandate holders.
A ranking of trust banks and life insurers by the value of pooled corporate funds managed by each at the same date is here.
More information is available under the 'Rankings' tab.
The segregated market is skewed by the presence of the Government Pension Investment Fund, the world's largest institutional investor. GPIF is not a trendsetter but NRI describes as "emblematic" the course by which its first six emerging markets mandates made their way through the market.
One each went to Lazard Japan Asset Management KK and Invesco Asset Management (Japan) Ltd, both local entities of foreign companies. Four went to domestic firms: Nomura Asset Management, Nomura Funds Research & Technologies, Mizuho Asset Management and Sumitomo Mitsui Asset Management.
Each of the domestic firms then appointed a sub-advisor to undertake the work. While not named by NRI these are believed by the market to be, respectively, Research Affiliates, Dimensional Fund Advisors and Wells Capital Management, all of the US, and Vontobel Asset Management of Switzerland. None of them has investment operations in Japan.
Retail already 70% subadvisory
The impetus to pass work to subadvisors is already evident in the retail sector where earlier NRI research found that nearly 70% of assets under management had taken this route. The tendency was particularly strong where overseas assets were concerned.
All of this is happening just as a new accounting rule, implemented from the start of the financial year on 1 April, is requiring that any underfunding in corporate retirement plans be made good immediately through the P&L.
That, in turn, is taking place against a backdrop of demographics so dire that many corporate retirement schemes have already past the tipping point to where they are paying out more in benefits than they receive in contributions.
With the gap widening each year optimizing investment returns is essential.
Pooled gets sexy
That means even the trust banks and life insurers which offer pooled  products must adapt to an environment which wants yield to day and yield tomorrow.
Part of their response has been to widen their very narrow product ranges to offer participation in pools with a range of target rates of return that carry  fees to match their risk: reward profiles.
As this development necessarily means going abroad and into asset classes where they have little expertise, they too are aware that they need subadvisors.
Already shaping up as likely winners are "Multi-asset [accounts] with dynamic asset allocation" which a final exhibit in NRI's report shows to be among products attracting the highest demand from retirement schemes while having the least number of suppliers.
NRI does not say so but such arrangements are being nurtured by at least three of the four trust banks, all now members of mammoth financial groups, and by insurance giant Nippon Life. (This Reuters story from January has more but is not wholly accurate and over-states the impact of the AIJ mess.)
Staying healthily sceptical
NRI's  study is certainly a reminder to asset management firms which currently have no presence in Tokyo that they do not have to commit to the licensing, premises and staff costs needed to have investment operations there.
Rather, they might want to look first at what sub-advisory work they can win from other fund managers including trust banks and life cos.
While the trend to subadvisory mandates has come to stay, no asset manager should enter the market believing that taking on such work will open doors to higher-margin, directly mandated business later. It is not subadvisors' place to meet with end clients.
Those who are lucky enough to meet a pension fund sponsor or two along the way may find that investment performance is not the only thing they care about – they value communication too.
Intending entrants should also retain some scepticism when already established firms moan on about how difficult it all is. Japan's pensions management market is far bigger than that of the UK but it is served by fewer investment management firms.
* Japan's Asset Management Business 2012/13
© 2012 Japan Pensions Industry Database/Jo McBride. Reporting on, and analysis of, the secretive business of Japanese institutional investment takes commitment, money and time. This blog is one of the products of such commitment. It may nonetheless be reproduced or used as a source without charge so long as (but only so long as) the use is credited to www.ijapicap.com.
This blog would not exist without the help and humour of Diane Stormont, 1959-2012