For the first time since it ceased to be a government department in 2008, Japan Post Bank has ended a financial year with JGBs accounting for less than 70% of its now 171.6tr yen securities portfolio, just published summary annual results to 31 March 2013 show.
Conversely, the Bank's holdings of "other securities" comprised a record high of 7.88% at the same date. Foreign bonds usually make up three-quarters of "other" but further clues to its composition must await publication of Japan Post Group's annual report in June.
The Bank's foreign bond holdings may then be seen to have surpassed even those of the giant Government Pension Investment Fund. At 31 March 2012 GPIF held 9.9tr yen in overseas fixed-income obligations compared with Post Bank's 9.4tr yen.
Text continues below table.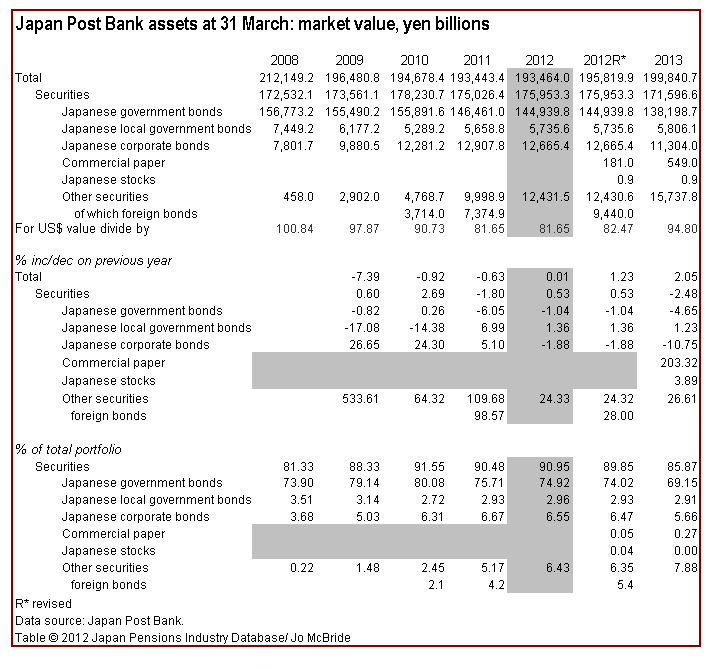 Now a corporate entity but still state-owned, Post Bank is perceived by many politicians as existing to funnel cheap credit into state coffers by buying JGBs. Few would have forecast just a year ago that its stash of such holdings would soon drop by 6.7tr yen, or 4.65%.
Since then a December election has brought the Liberal Democratic Party back to power. With a new head of the Bank of Japan appointed soon afterwards, an aggressive quanti-tative easing program moved into place and is today gobbling up huge amounts of official debt.
This has enabled Post Bank to keep on lowering the level of JGBs in its portfolio so that by 31 March 2013 it was down to 69.15%, compared with 80.08% three years earlier.
Travelling in the opposite direction, the proportion accounted for by "other securities" has increased over the same period from 2.45% to 7.88%. In yen term these holdings stood at  15.7tr at the latest financial year end, a jump of 26.61% on the prior term.
The approximately 75% of this part of the portfolio which is typically in held foreign bonds will have benefitted over the year from a rise versus the yen in the value of the currencies in which it is denominated. In the case of the US dollar this was 14.95%.
Even the Post Bank Group annual report usually reveals very little about the make-up of its portfolio. It has typically noted a zero allocation to foreign stocks but not how perfor-mance has been impacted by movements in securities markets — or in the currency values that will play a decisive part in where the Bank goes from here.
Many Japanese institutional investors have long seen the attractions of investing in growth markets abroad but have needed to avoid the losses resulting from foreign holdings being translated into a yen that has been continuously strengthening for over 40 years.
If that trend has stopped, or, better still, reversed, asset allocation can assume a more rational profile and money will flow oversees.
But with the new trend in the domestic currency dependent on politically inspired actions, institutions are unlikely to believe it is reliable until after the Liberal Democratic Party has safely won elections for the Diet's upper house which are scheduled for July.
Meanwhile retail investors appear to be already boarding the bus.
Nomura Securities' latest monthly survey of investor sentiment – taken on 7 May when the yen was 98.90 to the US dollar, compared with the 93.93 yen the time before – showed 77.1% of respondents expecting the currency to weaken against over the next three months.  It closed the 17 May trading session at US$1=103.20.
© 2013 Japan Pensions Industry Database/Jo McBride. Reporting on, and analysis of, the secretive business of Japanese institutional investment takes commitment, money and time. This blog is one of the products of such commitment. It may nonetheless be reproduced or used as a source without charge so long as (but only so long as) the use is credited to www.ijapicap.com.
This blog would not exist without the help and humour of Diane Stormont, 1959-2012