Mutual funds serving Japan's retail market almost doubled their geographic range in the financial year ending 31 March which closed with them holding securities denominated in 48 currencies, compared with 25 a year earlier. Mutual funds are called investment trusts in Japan.

In value terms the growth was not quite so spectacular. Foreign investments ended the year at 26,225.8 billion yen, up 8.3% on the previous annual close, while total assets a grew by 14.1% to 72,631.5b yen.
The numbers are taken from those submitted to the country's Investment Trusts Association by its members. They cover only publicly offered vehicles and so exclude participations in trusts which are privately placed with institutions, a business worth about 31,818.5bn yen at the prior year-end in March 2012.
The highest point for overseas holdings during the past decade was 2007 when it reached 36,884.6bn yen, just over 50% of the then 72,588.2bn yen total.  The foreign component is now 36.11% and the spread of currencies it has so quickly grown to embrace suggests it is positioned to regain its former heights – possibly by the close of the current year at 31 March 2014.
The beneficiaries will be overseas headquartered asset managers with the knowhow to offer products themselves or to provide white label services to domestic firms.
Whether investors put most of their money into Japanese or foreign securities, Nomura Asset Management looks set to go on extending the already commanding lead it enjoys over its rivals.
In the year ended 31 March NAM's mutual fund assets under management grew by 17.6% to 16,166.6 billion yen, well ahead of the second placed Daiwa Asset Management where portfolios expanded by 14.8% to 10,476.3bn yen and third ranked Nikko Asset Management where a bigger 22% rise pushed the firm to just 8,044.4bn yen.
The rate of expansion was massively more among the among the smaller players with Manulife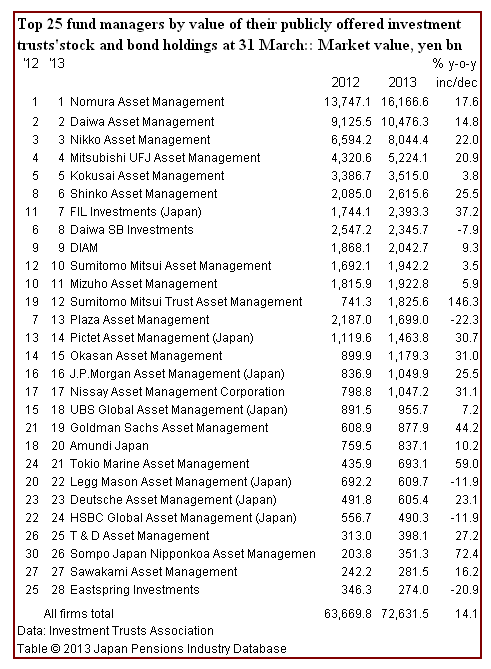 Investments Japan, ranked 61st by asset size, putting on 736.5%, Rheos Capital Works gaining 281.5% and Rakuten Investment Management  swelling by 216.7%.
[For a ranking of all 75 firms see the 'JAPAN: Fund managers' subsection under the Rankings tab above.]
Even top 25 overseas players Goldman Sachs Asset Manag-        ment and FIL Investments (as Fidelity is known in Japan) expanded by 44.2% and 37.2% respectively.
Among the foreign firms losing out were Plaza Asset Management, down 22.3% and falling five places to 13th, Legg Mason Asset Management (Japan) down 11.9% and two rungs to 22nd and HSBC Global Asset Management (Japan) also -11.9% and two places to down 24th.
While HSBC was the first modern bank in Japan and has a very long history in Tokyo, its asset management arm seems never to have found a firm footing in the country – despite the Hong Kong dollar now ranking as mutual funds' 8th largest currency holding.
Hong Kong dollar assets nonetheless fell in the latest financial year, perhaps because the city has seen fewer initial stock offerings by mainland Chinese entities.
Like the yen, the Swiss franc has been caught in a self-reinforcing trend which sees it  strengthening because in uncertain times it is perceived as safe and that strengthening making it appear safer still. This perception probably caused the massive 2,980.4% jump in mutual funds' holdings denominated in the currency. The 20.3% rise in US dollar investments is unsurprising given the size of, and liquidity in, that nation's  markets.
The addition of 23 new currencies came partly at the expense of holdings in the units of Australia, Brazil, Taiwan and Korea, with whose economies Japanese retail investors have become increasingly familiar in recent years.
The values in Investment Trust Association figures are at market prices and not indexed or adjusted in any other way for shifting currency values.
The exchange rate at 31 March 2007 the yen was US$1=117.57, at 31 March 2012 US$1= 82.434 yen and at 31 March 2013 US$1=94.037 yen
© 2013 Japan Pensions Industry Database/Jo McBride. Reporting on, and analysis of, the secretive business of Japanese institutional investment takes commitment, money and time. This blog is one of the products of such commitment. It may nonetheless be reproduced or used as a source without charge so long as (but only so long as) the use is credited to www.ijapicap.com.
This blog would not exist without the help and humour of Diane Stormont, 1959-2012.