GPIF enjoyed a time weighted return of 1.85% in the April-June period when it beat the benchmarks on two of its four portfolio components. While it lost 1.48% on the 51.55% it holds in domestic bonds that is still 0.03% better than the -1.51%  benchmark.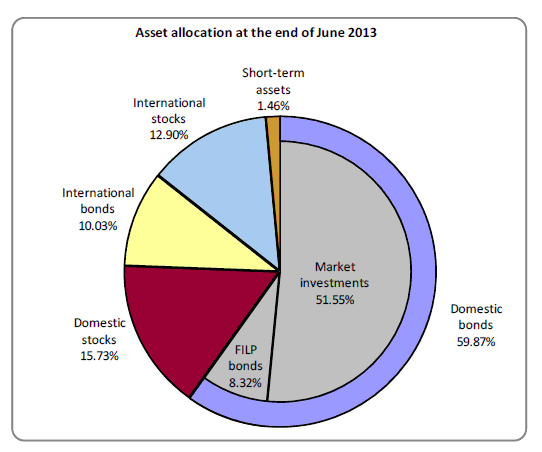 At the end of the quarter,  the first of the 2013/14 financial year, the Fund had assets of 121.01 trillion yen.
Other returns for the term were:  on the 15.73% that GPIF has in domestic stocks 9.7% against a 9.77% benchmark making it 0.07% off, on the 10.03% it has in international bonds 4.01% against a 4.23% benchmark for an underperformance of 0.22%, and on its 12.90% in international stocks 6.14% compared with a benchmark 6. 05% or 0.09% up.
On 28 June 2014 US$1= 99.170 yen
© 2013 Japan Pensions Industry Database/Jo McBride. Reporting on, and analysis of, the secretive business of Japanese institutional investment takes commitment, money and time. This blog is one of the products of such commitment. It may nonetheless be reproduced or used as a source without charge so long as (but only so long as) the use is credited to www.ijapicap.com.
This blog would not exist without the help and humour of Diane Stormont, 1959-2012