Every year J.P.Morgan Asset Management (Japan) asks a selection of corporate defined-benefit pension funds about their asset allocation intentions and generously makes the results available in a report which it publishes free of charge.
Even more kindhearted would be the inclusion in next year's poll of questions about respondents' liabilities and whether their schemes have already passed the point at which they will forever have a dwindling number of contributors and a growing number of pensioners.
Also welcome would be information on whether any of the companies sponsoring the funds has had to note in it most recent annual EDINET filing that its scheme is underfunded. Some are but anecdotal evidence suggests that a surprising number are fully funded.
Morgan's report on this summer's survey of 131 pension funds notes that the responses 'signal a shift from "Risk-off" to "Risk-neutral" … With abundant cash reserves … accumulated from their strong performance … [the funds] have begun to [leave] the accumulated cash intentionally uninvested.'
Later it states: '… with a high level of the surplus, respondents have started to consider a separation between risk assets and cash reserves … Rather than elevating risk tolerance given such abundant cash reserves … [they] … are now focusing on reducing downside risk in order to avoid any negative impact on their plan sponsor's consolidated financial statement.'
While the enormity of the 'surpluses' and 'reserves' is repeatedly asserted, their actual size  is not given and since the trend to idle cash is said to be starting only now it does not show up in the asset allocation tables.

Nor is there any information on of what the amounts are in excess. While this is logically the firms' pensions benefit obligations, the report seems to conflate good investment returns with pension assets that are more than pension obligations.

As the funds have large numbers of pensioners, relative to their workforces, and more people retiring ever day, the just under 30% to which some have reduced their JGB holdings will probably stay at that level so as to ensure the smooth payment of benefits without disruption to other investments which can thus be left in place for the long term.
The rest of the portfolio can then be structured to meet the needs of the next cohorts to retire and those replacing them — replacements which will be fewer in number since the country's workforce is shrinking and employers are having to find other means to sustain or increase productivity. J.P.Morgan's findings accord with this pattern.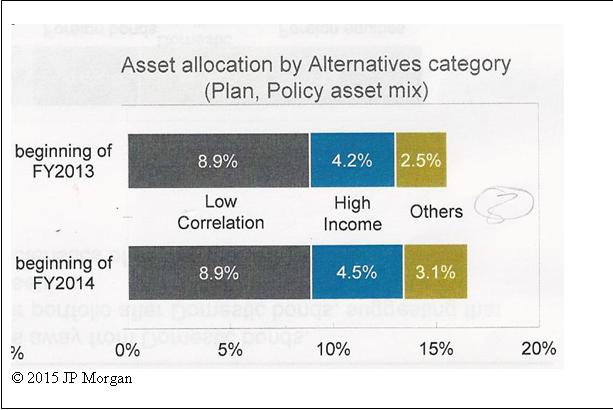 Those pension funds which took a sum equivalent to 15-17% of their total portfolios from JGBs in the 2012/2013 year and invested it in alternatives were looking a by the time of the Morgan poll at having 8.9% in low correlation assets, 4.2% in high income and the rest in 'other'. In the event rather less went to low correlation — represented mostly by absolute return investments — and slightly more into high income – represented by REITs and infrastructure.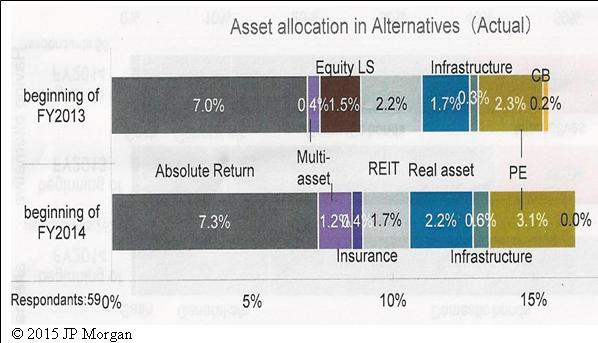 The poll does not reveal the types of vehicle in which the 'real estate' and 'infrastructure' investments are held. This may be the ever-popular  privately placed real estate investment trusts but anecdotal evidence from elsewhere suggests that 3-4 year private equity funds offering access to infrastructure debt have become popular in an era where income is greatly valued.
Although done some months after the Nomura Research Institute study reported below, the Morgan survey roughly accords with its findings in terms of the types of product  defined-benefit pension funds as seeking.
© 2015 Japan Pensions Industry Database/Jo McBride. Reporting on, and analysis of, the secretive business of Japanese institutional investment takes commitment, money and time. This blog is one of the products of such commitment. It may nonetheless be reproduced or used as a source without charge so long as (but only so long as) the use is credited to www.ijapicap.com.
This blog would not exist without the help and humour of Diane Stormont, 1959-2012