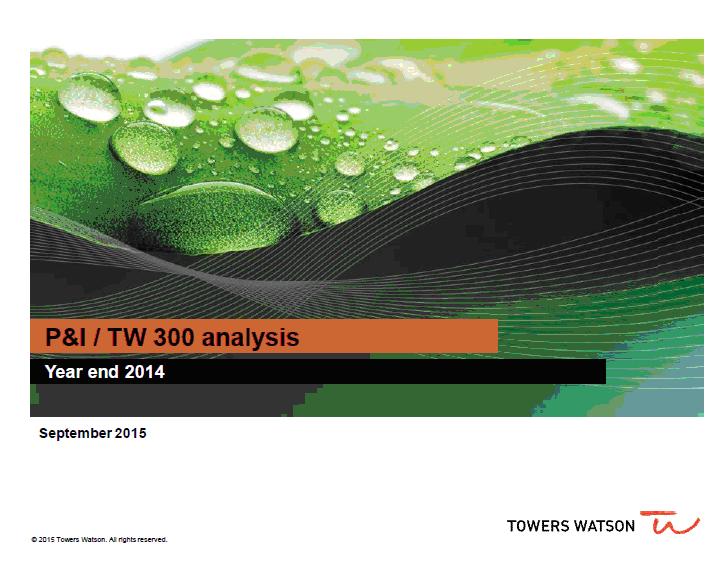 The world's largest 300 pension funds grew by over 3% in 2014 to reach a total value of US$15 trillion, the latest annual study of the industry leaders by actuarial consultants Towers Watson reveals.
Perhaps more significantly the funds' aggregate value is now double what it was ten years ago when the defined-benefit component – which today accounts  for 66.8% of assets — was widely predicted to be heading for a quick extinction.
At US$1,143.8 billion Japan's Government Pension Investment Fund is still top of the pile though by a narrowing margin.
A year earlier the Fund had assets of US$1,221.50bn which was US$363bn ahead of second ranked Government Pension Fund of Norway. This year the gap is down to US$259bn in part because the Norwegian giant does not yet pay out benefits while GPIF is already in its decumulation phase.
Other Japanese retirement schemes in the top 40 are that for Local Government Officials (Chikyoren) at 11th, compared with 12 last year, the Pension Fund Association which has fallen from 20th to 25th and the scheme for National Public Service personnel which has dropped from 36th to 46th
Foreign exchange rates may also play a role in determining  who appears where but once again Towers Watson omits to note the levels at which the local currencies of the 300 funds were converted to US dollars – a persistent weakness of the study.
Interesting claims
The press release accompanying the report makes some interesting claims.
Chris Ford, Towers Watson's global head of investment notes that:
"… there is a growing feeling that the investment industry, despite having grown assets, has not focused enough on the end beneficiaries' needs or on managing costs in the 'investment food chain'. "
"Instead it has focussed on relative returns over total returns, and has allowed excessive risk to build up in portfolios at the same time as costs have increased to a level that is far higher than can be justified in aggregate.
"The top funds are already moving to address this and related issues and we can expect a very different industry in ten years' time – or sooner given the inexorable shift to DC where the end beneficiary does indeed come first."
Yet "excessive risk" is not a worldwide condition and DC "pensions"are not retirement schemes at all but provident funds and the extent to which their beneficiaries win is dependent on their preparedness to give up time from being  good teachers, plumbers, doctors etc in order to become semi professional investors.
Moreover even many thousands of tiny DC piggy banks cannot match the performance,   and therefore benefits, which DB plans can deliver to their members and which are guaranteed until the end of life — a fundamental characteristic of an old age pension.
Even more intriguingly the press release quotes Chris Ford as saying that:
"The gradual reduction of extraordinary measures from central governments, which has underpinned equity markets since the financial crisis, is now being felt. Without QE tailwinds markets are arguably back to functioning normally which will reinforce many big funds' belief in the value of being well diversified, particularly at times of stress which we are seeing again at the moment.
"As such we expect mature funds around the world to accelerate diversification away from equities and into other asset classes, as they continue to de-risk their portfolios and focus on total return".
Yet somehow none of this sounds like Japan – home to the world's second largest pool of defined-benefit investments where many funds are mature and approaching fully funded and DC accounts for just 3% of pension assets.
© 2015 Japan Pensions Industry Database/Jo McBride. Reporting on, and analysis of, the secretive business of Japanese institutional investment takes commitment, money and time. This blog is one of the products of such commitment. It may nonetheless be reproduced or used as a source without charge so long as (but only so long as) the use is credited to www.ijapicap.com.
This blog would not exist without the help and humour of Diane Stormont, 1959-2012