The semi-annual round of press conferences at which life insurance companies sketch out how they might invest in the coming six months has produced its usual avalanche of media coverage with almost all of it focused on probable flows into foreign bonds.
It is usually worth waiting for Reuters' round-up of the plans to get an overall perspective since this also shows the market conditions in which the firms expect to be investing.
So it proved to be this time too.
The result is yet another body blow for Abenomics since the life cos not only see a likelihood of the yen:US dollar foreign exchange rate strengthening to 95 but even in the face of that eventuality are proposing to invest more offshore.
The fear of foreign investments losing value when translated back into domestic currency terms seems to have been overwhelmed by the hunt for yield.
Japan's life insurers have become increasingly comfortable with the world beyond their shores in recent times as the nation's dire demographics have pushed them to expand abroad through foreign acquisitions.
The links to Reuters' stories on individual firms' plans appear below the table.
Insurance specialist AM Best  has also produced a report on Expansion into Foreign Investment by Japanese Life Insurers but the trends which it notes are only those to 31 March 2016.

Numbers showing he breakdown of Life Insurance Association of Japan members' portfolios at 30 September should appear soon.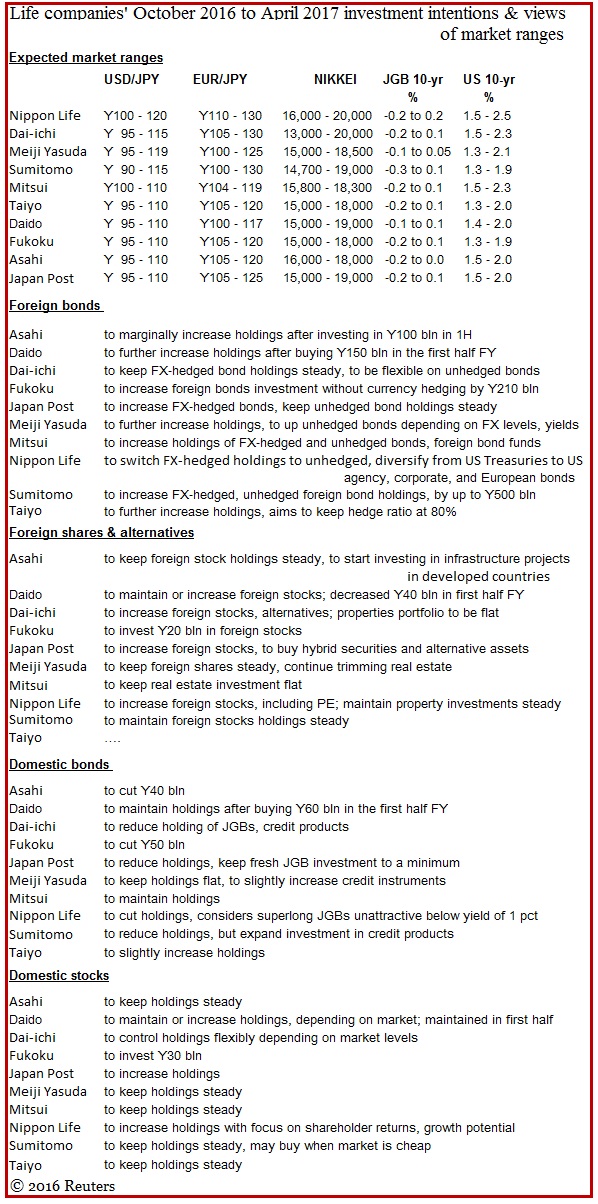 http://uk.reuters.com/article/uk-japan-insurance-asahi-mutual-life-idUKKCN12Q0BP
http://uk.reuters.com/article/japan-insurance-dai-ichilifehldg-idUKT9N1C204Z
http://uk.reuters.com/article/japan-insurance-meijiyasuda-idUKL4N1CV2N0
http://www.reuters.com/article/us-japan-insurer-nippon-life-ins-idUSKCN12S1MC
http://uk.reuters.com/article/uk-japan-insurance-taiyo-idUKKCN12Q0BE
© 2016 Japan Pensions Industry Database/Jo McBride. Reporting on, and analysis of, the secretive business of Japanese institutional investment takes big commitments of money and time. This blog is one of the products of such commitment. It may nonetheless be reproduced or used as a source without charge so long as (but only so long as) the use is credited to www.ijapicap.com and a link provided to the original text on that site.

This blog would not exist without the help and humour of Diane Stormont, 1959-2012