Interesting new research from MSCI on Global Pension Underfunding Concerns shows Japan's banks [column headed JP in the table below] to be the country's worst-scoring sector on a measure which juxtaposes underfunded retirement-scheme liabilities with annual 'revenues'.
The study would be even more interesting if it made plain whether the revenues concerned refers to the income of companies sponsoring the pension plans or contributions to the schemes themselves. And more interesting still if it set out how it arrived at the first part of the equation which measures 'underfunding'.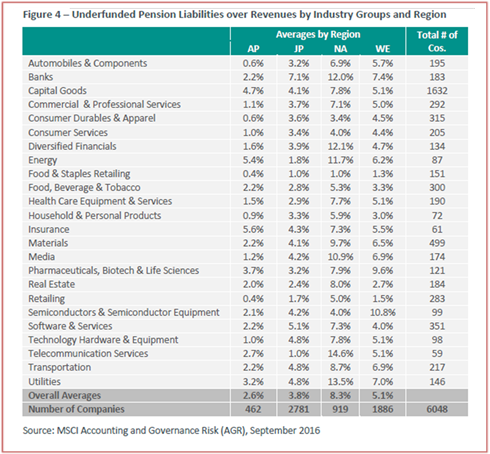 Most Japanese banking staff were at one time covered by a sector-wide Employee Pension Fund which, along with a  majority of others of this type, has now been dissolved and replaced by employers' own arrangements that have only recently begun accumulating assets.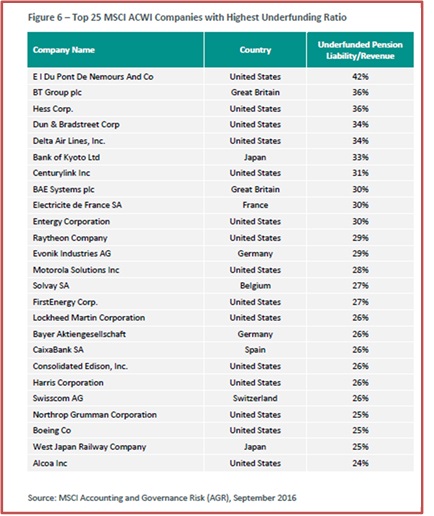 US firms take four of the top five slots in MSCI's 'Companies with Highest Underfunding Ratio' where they are joined by the UK's BT Group. Japan's Bank of Kyoto comes sixth.
The research covers the two most recent financial years and shows 'the underfunded ratio to be worst in North America at 9.2%, followed by Europe at
4.7%, Japan at 3.7%, and Asia at only 1.8%.'
Emails to MSCI sent well before the Thanksgiving holiday asking for definitions of 'income' and 'underfunding' as used in the study received no reply.
© 2016 Japan Pensions Industry Database/Jo McBride. Reporting on, and analysis of, the secretive business of Japanese institutional investment takes big commitments of money and time. This blog is one of the products of such commitment. It may nonetheless be reproduced or used as a source without charge so long as (but only so long as) the use is credited to www.ijapicap.com and a link provided to the original text on that site.

This blog would not exist without the help and humour of Diane Stormont, 1959-2012