The number of corporate pension funds with sokanji fell again in the year ended 31 March 2016 to reach 11,184, compared with 11,720 four years earlier, according to a recent report in Nenkin Joho, a fortnightly newsletter published by Rating & Investment Information (R&I) the actuarial consulting subsidiary of the Nikkei newspaper.
The drop has several causes including corporate restructurings which have seen the retirement schemes of subsidiaries subsumed by their parents but the biggest factor is that the only Employee Pension Funds (EPFs)  still winding their way towards closure are often those not sufficiently robust to be reborn in another form.
The toll for for the year 221 EPFs which were only partly compensated for by the 27 new defined-benefit type plans.
To understand the enormous importance of sokanji see Making the most of 11,000 captive clients.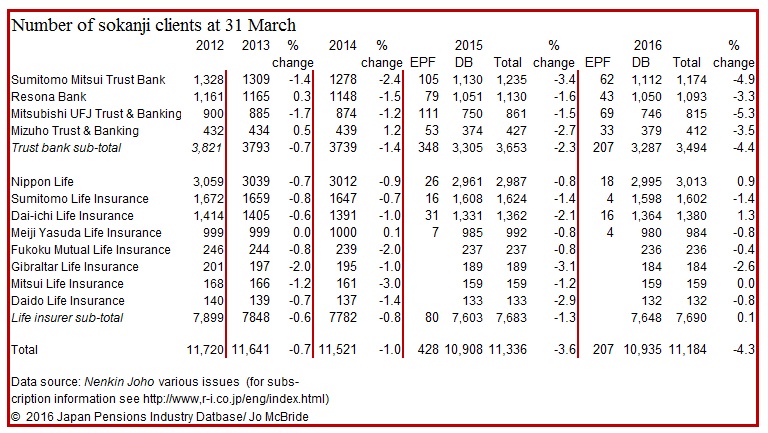 © 2016 Japan Pensions Industry Database/Jo McBride. Reporting on, and analysis of, the secretive business of Japanese institutional investment takes big commitments of money and time. This blog is one of the products of such commitment. It may nonetheless be reproduced or used as a source without charge so long as (but only so long as) the use is credited to www.ijapicap.com and a link provided to the original text on that site.

This blog would not exist without the help and humour of Diane Stormont, 1959-2012