Sumitomo Mitsui Trust Holdings is the highest ranked Japanese entity in the latest edition of Willis Towers Watson's annual league table of the world's largest asset management firms by amounts in their stewardship, coming in 23rd with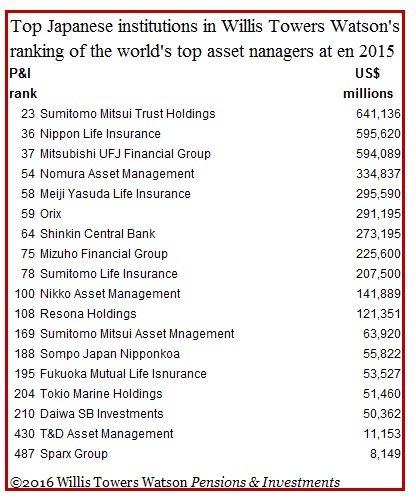 S$641,163 million at the end of 2015.
The study does not distinguish between third-party and inhouse assets and so is dominated by insurance companies which do both.
Sumitomo Mitsui Trust Holdings is shown to be the fourth fastest growing firm in the 2010-1015 period behind Aegon Group, New York Life Investments and Dimensional Fund Advisors but there is no note as to whether this is on a local currency or US dollar basis.
During the same time Willis Towers Watson gauges assets under management in Japan  to have grown 4% in yen terms but by -4% in the American unit.