The league tables of life insurers and trust banks managing pension funds' investments in pooled accounts and tokkin, where newcomers would find significant barriers to entry, remained very much the same at the end of the financial year on 31 March, according to a recent report in Nenkin Joho which uses book values in its rankings.
On this basis, pooled assets under management fell by an overall 2.9% compared with a decline of on 8.52% when measured by market values (as already reported in Pooled pensions biz holds up slightly better than segregated see below). The drop comes from a decline in the number of pension funds which is, in turn, due to schemes closing, changing type or merging.
The business in tokkin accounts fared a little better at -1.47% than that in pooled arrangements which fell by 6%.
Tokkin are directed money trusts. Nenkin Joho is a fortnightly newsletter from Rating & Investment Information which is part of the publications group centred in the Nikkei newspaper.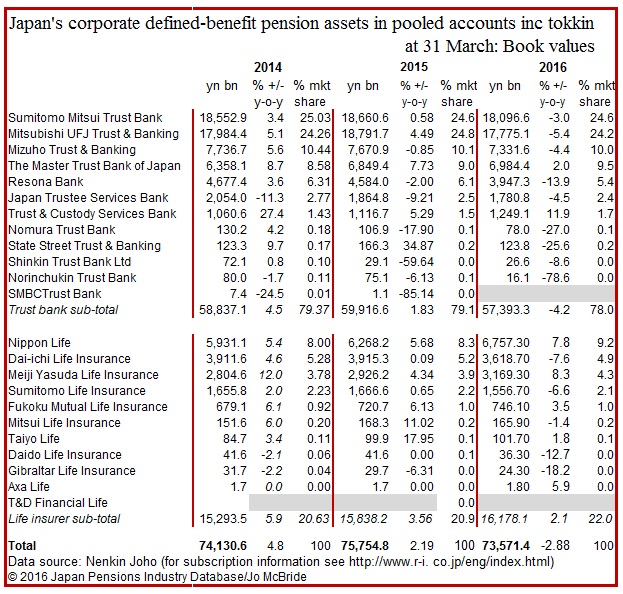 © 2016 Japan Pensions Industry Database/Jo McBride. Reporting on, and analysis of, the secretive business of Japanese institutional investment takes big commitments of money and time. This blog is one of the products of such commitment. It may nonetheless be reproduced or used as a source without charge so long as (but only so long as) the use is credited to www.ijapicap.com and a link provided to the original text on that site.

This blog would not exist without the help and humour of Diane Stormont, 1959-2012