The just published third quarter results of Japan Post Bank show its holdings of Japanese government bonds to account for only 35.3% of its portfolio, down from 37.7% at the close of the second quarter on 30 September and from 40.1% at the start of the year.
Keeping to a track apparent for some time, all of the drop during the term appears attributable to bonds which a long-ago official fiat dictated be held to maturity becoming due. The proceeds from this paper were then sent abroad into bonds and investment trusts (Please see tables at foot for details) .
A similar pattern prevails at Japan Post Insurance whose quarterly report was published at the same time.
Yet despite the clarity of the trend, the Nikkei and other commentators persist in using stock brokers' reports of both institutions' supposed "shedding" of JGBs to talk up the stock market. (A recent example is here.)
In yen terms Post Bank's portfolio stood at 207,839.1 billion yen at 31 December, up almost 2% from 203,824.5bn yen three months before and up 1.4% from 204,876.6bn yen at the start of the year.
Post Insurance's investment assets were 81,545.1bn yen, up 1.31% from 80,492.2bn yen at 30 September and 1.55% from 80,300.6bn yen at the start of the year.
Post Bank's "held-to-maturity securities" were 42,842.9bn yen, 9.28% down from 47,223.2bn yen three months earlier and 17.69%% below the 52,052.5bn yen at 31 March.
At Post Insurance "held-to-maturity bonds" were 47,540.6bn yen, 4.45% down on the 49.752.9bn yen,at the start of the year.
Much has been said about how the two institutions will diversify but that will take time and, while their investments teams now include a significant component from Goldman Sachs, the learning curve is quite steep for both.
Until very recently a great deal of their customer's money was simply grabbed by the Ministry of Finance's Trust Fund Bureau which paid a set rate of interest on it via so-called zaito bonds while "investing" the money in public works through the Fiscal Investment and Loan Program.
What was left in postal portfolios could then be used by government to prop up whatever market it deemed needed propping at the time or otherwise directed into JGBs.
The maturity profile of the institutions' government bond holdings is not made public but they seem to receiving about 15,000bn yen a year in proceeds from expiring debt.
Work to allocate this amount will be enough to forge their skills for the future without embarking on redistributions of their whole portfolios.
It is worth noting that Post Bank's JGB holdings excluding those held to maturity make up just 15% of its assets.
Beware: the tables below are taken directly from Japan Post materials. Post Bank puts December 2016 figures on the left and quarter earlier numbers on the right. Post Insurance does the reverse.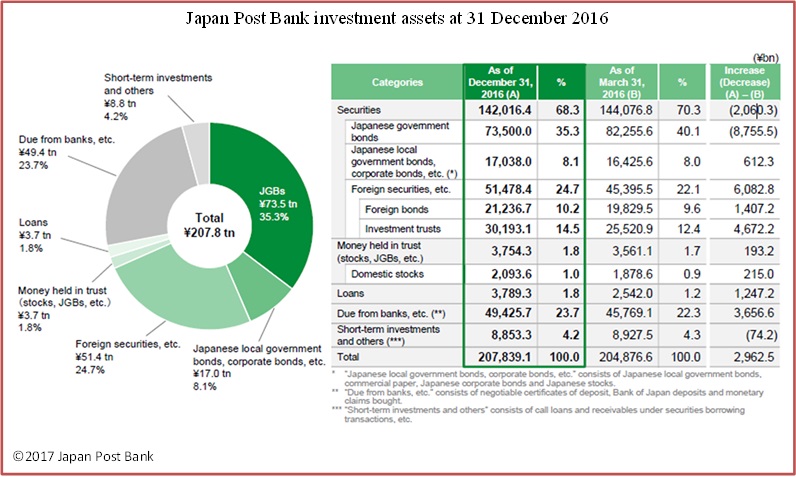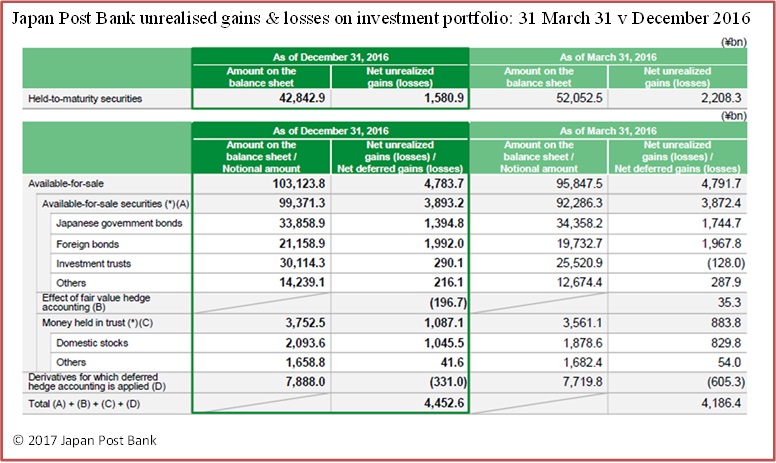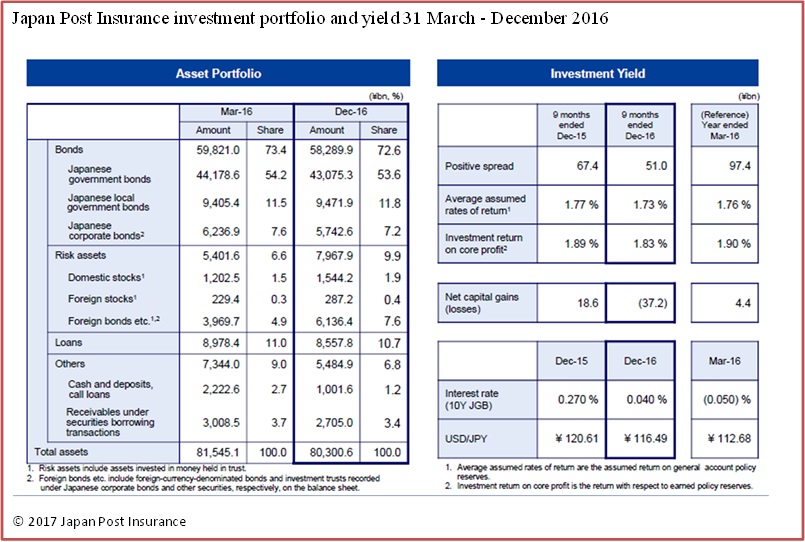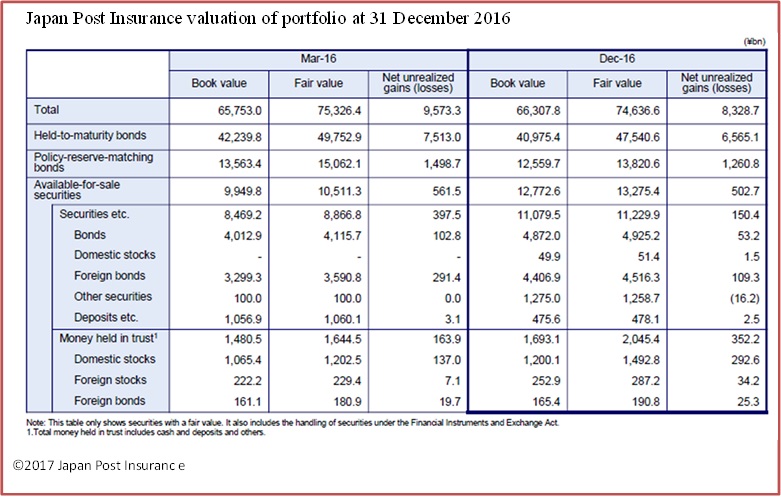 © 2016 Japan Pensions Industry Database/Jo McBride. Reporting on, and analysis of, the secretive business of Japanese institutional investment takes big commitments of money and time. This blog is one of the products of such commitment. It may nonetheless be reproduced or used as a source without charge so long as (but only so long as) the use is credited to www.ijapicap.com and a link provided to the original text on that site.

This blog would not exist without the help and humour of Diane Stormont, 1959-2012