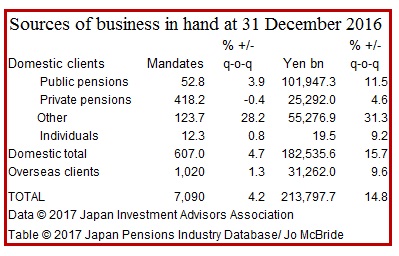 Money managed under discretionary mandates by member firms of the Japan Investment Advisors' Association hit a record 213,797.7 billion yen at the end of December, just- released figures show.
While rising local and US stock markets and a fall in the value of the yen contributed to the overall 14.8% gain during the third quarter, new money also played a part; the number of mandates from non-pensions domestic clients rose by 28.2% to 1,237 during the third quarter and the assets they represent climbed 31.3% to 55,276.9bn yen.
Six years ago these 'other' clients – which are thought to consist predominantly of regional banks — had assets in JIAA members' stewardship of about 23,352.2bn yen, roughly equal with that of local corporate pension funds.
Today they have almost twice as much as companies' retirement schemes' 252,920bn yen.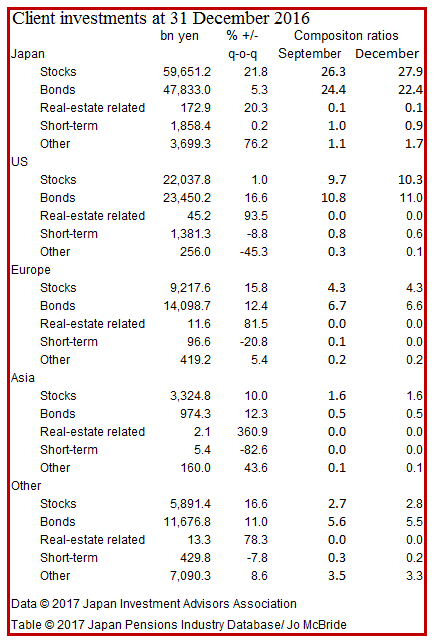 The recent inflows may also be responsible for the only major change during the term in asset allocations  with domestic equities rising from 26.3% to 27.9% of portfolios while domestic bonds showed an even more significant move – dropping from 24.2% to 22.4%.
The expanding business from regional banks arises from the very low loan demand experienced by these institutions which need somewhere to put their money. To generate revenue many have also become distributors of mutual funds run by firms that are members of another trade body, the Japan Investment Trusts Association.
And some may be in trouble.
The Nikkei reported on 9 March that the Financial Services Agency is launching audits of some regionals whose inhouse asset management units are thought to have lost money though large exposures to US treasuries yields on which rose, and prices fell, sharply in November.
© 2017 Japan Pensions Industry Database/Jo McBride. Reporting on, and analysis of, the secretive business of Japanese institutional investment takes big commitments of money and time. This blog is one of the products of such commitment. It may nonetheless be reproduced or used as a source without charge so long as (but only so long as) the use is credited to www.ijapicap.com and a link provided to the original text on that site.

This blog would not exist without the help and humour of Diane Stormont, 1959-2012