The proportion of Japanese life cos' portfolios invested in foreign securities is continuing its steady rise, according to figures just published by Life Insurance Association of Japan.
At the close of the third quarter on 31 December the level had reached 22.9% thanks in part to a fall during the term of 15% in value of the yen against the US dollar which flattered assets held in that currency when converted to the Japanese unit.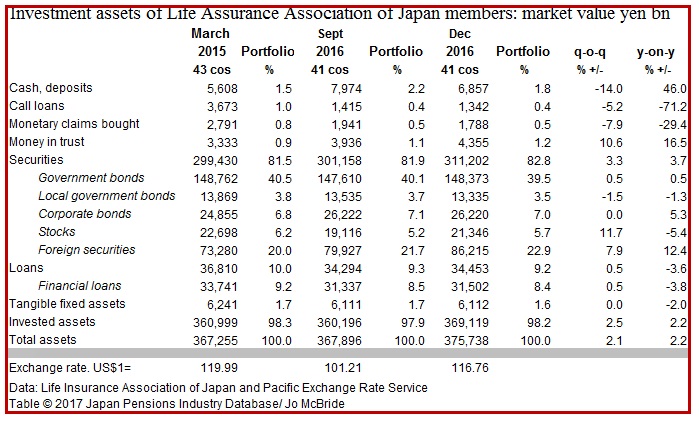 The trend has been forecast for so long (see archive 9 April 2013 for one of the earliest predictions) that the new numbers will surprise to no one — except those who had been forecasting a steeper climb.
And a steeper rise can indeed be discerned. If the numbers for Japan Post Insurance, the biggest entity in the business and a super-conservative investor, are deducted from the LIAJ members' total the proportion of assets in foreign investments is over 30%.
                Note that the percentages in the table below are on a slightly different basis (% of securities and loans investment) from those in the table above  (where the are % of all investments).
Evidence that this is not purely theoretical come from Nippon Life's recently reported results for the same quarter which show its overseas holdings to be 32.8% of its portfolio.
Also notable is the almost 15% of Nippon Life held in domestic stocks. This compares with  compared to for 7.72% LIAJ members without Post Insurance and just 1.9% for the postal giant.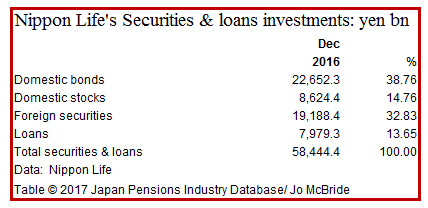 It is not hard to see why the Nikkei likes to quote sources who dub the Postal Insurance the 'blue whale' for the colour of its logo and its ability to provide huge buoyancy to the stock market were it to start   increasing the proportion of its portfolio held in local equities to the same level as other LIAJ members.
As continuing low interest rates and expectations of market volatility continue to challenge insurance firms and other institutional investors, they are looking increasingly to boost returns by acquiring assets such as loans.
In February Reuters reported that Nippon Life had made it first overseas move in this direction by buying a US$100 million 10-year project finance facility which Bank of Tokyo-Mitsubishi UFJ had extended to an LNG project in the US.
A month before Ryusuke Sakakibara, deputy general manager at Nippon  Life's corporate finance structuring office, said the company was also looking for opportunities to make overseas project finance loans in the primary market.

© 2017 Japan Pensions Industry Database/Jo McBride. Reporting on, and analysis of, the secretive business of Japanese institutional investment takes big commitments of money and time. This blog is one of the products of such commitment. It may nonetheless be reproduced or used as a source without charge so long as (but only so long as) the use is credited to www.ijapicap.com and a link provided to the original text on that site.

This blog would not exist without the help and humour of Diane Stormont, 1959-2012