Investment income at the Government Pension Investment Fund hit a bumper 10,497 billion yen in the third quarter of the 2016/17 financial year, ending 31 December, bringing returns for the year to date to 7,637.8bn yen when a first quarter loss of 5,234.2bn yen and second quarter earnings of 2,374.6bn are taken into account.
The number is good enough to overwhelm last year's loss of 5,309.8bn yen, barring accidents in the fourth quarter.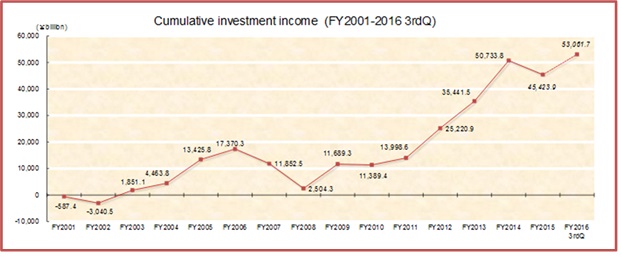 Total assets at the Fund now stand at record 144,803.8bn yen.        All the shifts in asset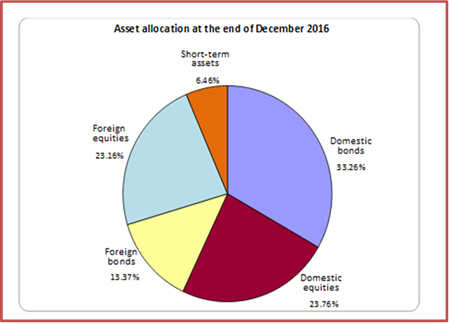 allocation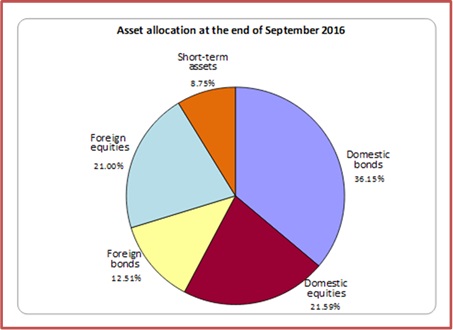 during the quarter appear to be the result of changes in investment or foreign exchange markets — with the exception of a shrinkage in short-term holdings, from a hefty 8.75% to 6.46%, and a 493.8bn yen decline in holdings of debt issued by the Fiscal Investment & Loan Program (zaito). The proceeds from this maturing paper, which counts as 'domestic bonds', were most probably redeployed to foreign or domestic equity investments which both saw rises of more than 2%.
Domestic bonds now account for 33.26% of the portfolio down from 35.15% three months earlier.
The Fund's policy mix is domestic bonds 35% (± 10%), domestic equities 25% (± 9%), foreign bonds 15% (± 4%) and foreign equities 25% ±8%). Alternative investments are 0.07% (to a maximum of 5%)
GPIF first leaked its excellent third quarter results at the end of the November (see archive 1 December) and then again earlier this week (see below).
This is inappropriate for a body which has made so much of being a standard bearer for better governance and threatens trouble down the road of the Fund brings more of its money management activities inhouse which it has already said it wishes to do.
© 2016 Japan Pensions Industry Database/Jo McBride. Reporting on, and analysis of, the secretive business of Japanese institutional investment takes big commitments of money and time. This blog is one of the products of such commitment. It may nonetheless be reproduced or used as a source without charge so long as (but only so long as) the use is credited to www.ijapicap.com and a link provided to the original text on that site.

This blog would not exist without the help and humour of Diane Stormont, 1959-2012