Assets under management in privately placed investment stock and bond trusts rose by 20.78% in the year ending 31 March 2017 to reach a record 76,826.0 billion yen, figures just published by the Investment Trust Association and analysed by the Japan Pensions Industry Database show.                                                                Text continues below table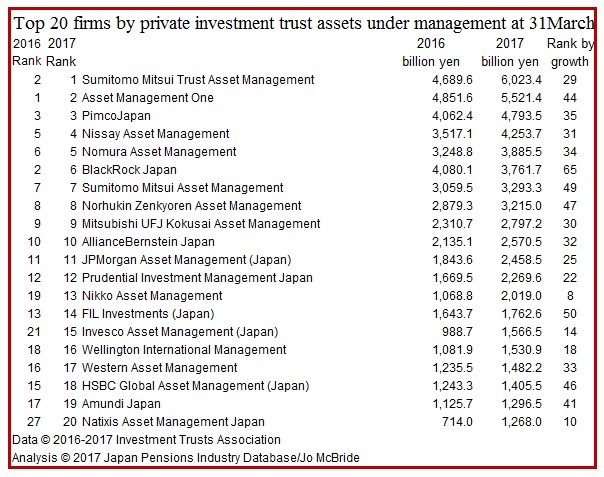 The climb is far greater than the 6.87% (see posting below) enjoyed by publicly quoted trusts.                                                                                                            
Thirty-one of 82 companies in the field beat the growth figure for the sector as a whole,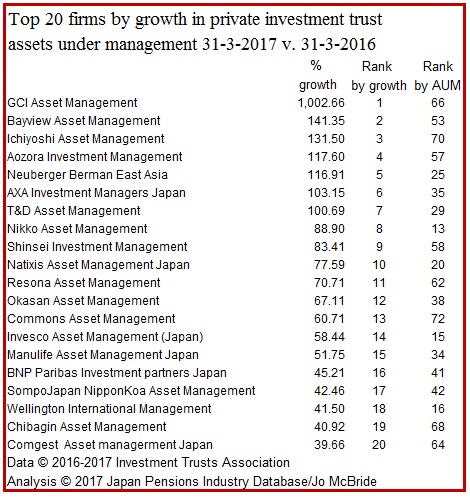 including top-ranked Sumitomo Mitsui Trust Asset Management which expanded by 28.44%,  knocking into second place what is now Asset Management One — a merger between DIAM (a 50:50 joint-venture between Mizuho Financial Group and Dai-ichi Life), Shinko Asset Management, Mizuho Asset Management and the asset management division of Mizuho Trust & Banking.
At over 1,000% the greatest gains were once more at GCI Asset Management, a relative minnow, which also led the growth table for publicly quoted funds. Founded in 2000, the firm uses 'innovative hedge fund strategies' and is headed by Hideki Yamauchi and manages 26.1bn yen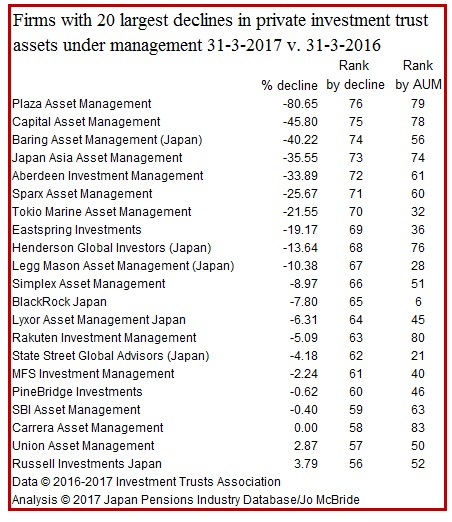 At the other end of the scale BlackRock is not quite the whale it once was in privately placed trusts, falling from 2nd place by AUM to 6th. Foreign firms make up most of the names in the ranking by declines.
Stock investments account for 72,640.9n yen of the total and bonds for just 4,185.1bn yen.
© 2017 Japan Pensions Industry Database/Jo McBride. Reporting on, and analysis of, the secretive business of Japanese institutional investment takes big commitments of money and time. This blog is one of the products of such commitment. It may nonetheless be reproduced or used as a source without charge so long as (but only so long as) the use is credited to www.ijapicap.com and a link provided to the original text on that site.

This blog would not exist without the help and humour of Diane Stormont, 1959-