The investment trust business regained some poise in the year ended 31 March 2017 with assets under management in publicly offered stock and bond mutual funds rising by 6.87% to 98,774.3 billion yen following a 12-month term in which they fell by 0.79% (see archive 2016-5-10), figures just published by the Investment Trust Association and analysed by the Japan Pensions Industry Database show.
Nomura still rules the roost and grew by a very respectable 10.60% during the year. Second-ranked Daiwa did not do quite so well but still expanded by 8.11% while Nikko put on 17.68% to regain its position at number three.                        Text continues below table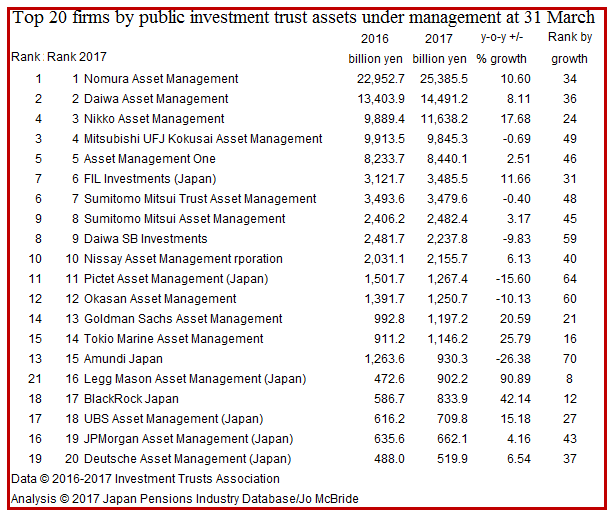 Of the 81 firms in the sector 36 expanded by more than the average with some of the small players, as in any vibrant market, showing spectacular climbs though from very low bases.
A merger of already related interests again played a role but made for little change in the league tables.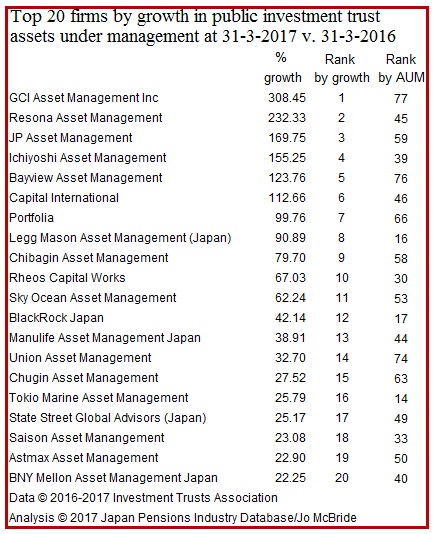 Last time the combining of Mitsubishi UFJ and Kokusai pushed Nikko Asset Management down to fourth from third but it is now back at number three. That is two notches above Asset Management One, newly assembled from DIAM, a 50:50 joint-venture between Mizuho Financial Group and Dai-ichi Life, Shinko Asset Management, Mizuho Asset Management and the asset management division of Mizuho Trust & Banking. One's growth of mere a 2.51% — putting it just three places above the position formerly occupied by DIAM — suggests that its management may have been distracted by work on integration.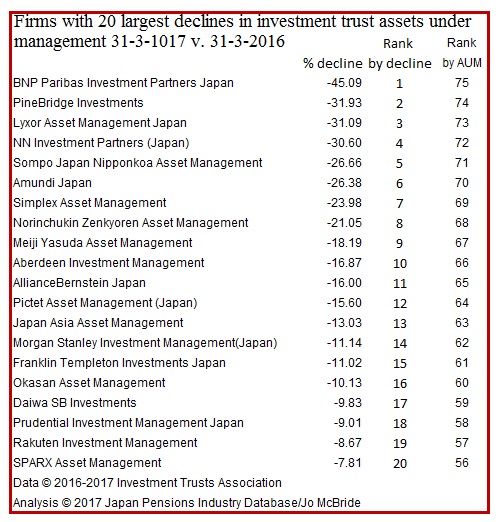 Among the big top 20 players Legg Mason Asset Management (Japan) produced a sparkling near-doubling of assets under management to rank 16th (up from 21st last time) and 8th in terms of growth rate. BlackRock did well too with AUM up by 42.14% to put it in 17th place (compared with 18th a year ago) and 12th in growth and Tokio Marine Asset Management grew by over 25% to finish 14th overall (up one place from last time) and 16th in terms of expansion.
While the biggest gainers were relatively small firms from the 5th, 6th and 7th percentile so too were the losers which include such well known international names as BNP Paribas Investment Partners Japan and Alliance Bernstein plus such domestic names as Sompo Japan Nipponkoa Asset Management and Meiji Yasuda Asset Management, both members of insurance groups.
© 2017 Japan Pensions Industry Database/Jo McBride. Reporting on, and analysis of, the secretive business of Japanese institutional investment takes big commitments of money and time. This blog is one of the products of such commitment. It may nonetheless be reproduced or used as a source without charge so long as (but only so long as) the use is credited to www.ijapicap.com and a link provided to the original text on that site.

This blog would not exist without the help and humour of Diane Stormont, 1959-2012