The Federation of National Public Service Personnel Mutual Aid Associations, known as KKR, seems to have  put a flurry of activities in hand ahead announcing its  results for the year to 31 March.
The pension fund has committed to bringing its asset allocation into line with that of the Government Pension Investment Fund and has some mighty shifts to make in meeting that aim as the pie charts above show —  the first for KKR  and the second for GPIF, both at 31 December 2016.
To h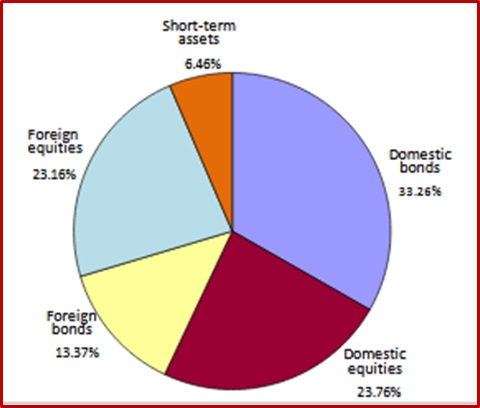 elp manage the re-allocation KKR has already hired BlackRock Japan, Mitsubishi UFJ Trust & Banking, Japan Master Trust and Russell Investments as transition managers.
The retirement scheme for civil servants who work for  national government looks as though it will need some help cutting its government bond holdings — the bulk of which made by way of 'duty investment' in Fiscal Investment and Loan Program (FILP) and other debt imposed on it in a very different era. As this imposition was by way of guidance rather than legislation the necessary policy reversals should be relatively easy.
© 2017 Japan Pensions Industry Database/Jo McBride. Reporting on, and analysis of, the secretive business of Japanese institutional investment takes big commitments of money and time. This blog is one of the products of such commitment. It may nonetheless be reproduced or used as a source without charge so long as (but only so long as) the use is credited to www.ijapicap.com and a link provided to the original text on that site.

This blog would not exist without the help and humour of Diane Stormont, 1959-2012