European institutions have been doing it in droves for some time. Now their Japanese counterparts look like heading in the same direction.
The difference between the two is that the Tokyo-based investors are looking to invest in so-called 'credit products' (also confusingly dubbed 'debt products') denominated in foreign currencies.
And there is also some evidence that the bigger Japanese firms are involving themselves in doing due diligence on borrowers and facilities rather than simply buying up loans in the secondary market.
The move overseas shows up in the most recent of the life insurers' regular statements about their investment intentions in the coming financial term which Reuters helpfully consolidates into a table (below). The need to compress data under just a few headings inevitably over-simplifies and in this case creates some tension between what is a foreign debt and what an overseas project financing and thus an 'alternative'.
From huge Nippon Life to little Fukoku
Nippon Life, the second largest life co by asset size after Japan Post Insurance, reports a likely move Euro bonds and US corporate and mortgage bonds without FX-hedging while the relatively small Fukoku Life has plans to establish 'a 500 billion yen fund to invest mainly in foreign credit over next five years'.
Loan demand is so low in Japan that, rather than fighting to get loans and other debt obligations off their balance sheets to free up space, banks are struggling to win customers in the first place. US and European banks, by contrast, have plenty of business they can package up and sell on.
Buying such debt necessarily involves the question of what Asahi Life describes as the 'hefty costs' of hedging.
Japanese institutional investors have long struggled with this issue and seemingly never found the right model or even the right model for any one time. Given the amount of money that needs to leave Japan for investment abroad and the level of foreign demand for the yen as a safe haven, it is perhaps surprising that no provider has yet come up with a proposition that institutions find attractive.
Domestic debt  down, foreign investments up
Both Dai-Ichi Life and Meiji Yasuda Life are proposing to find suitable debt products in the domestic market but the life cos' overall holdings of yen bonds are set to wane and those of foreign stocks and bonds to rise.
Nippon Life and Asahi Life are both looking to alternatives with Nippon expressing an interest in 'infrastructure funds and venture capitals' and Asahi on the lookout for investments in this class with a 'medium risk/return' profile.
In January Nippon's president Yoshinobu Tsutsui told Reuters that the firm will invest in project finance beginning this year as it 'explores opportunities around the globe' and the next month it made its first such loan.                                        Text continues below table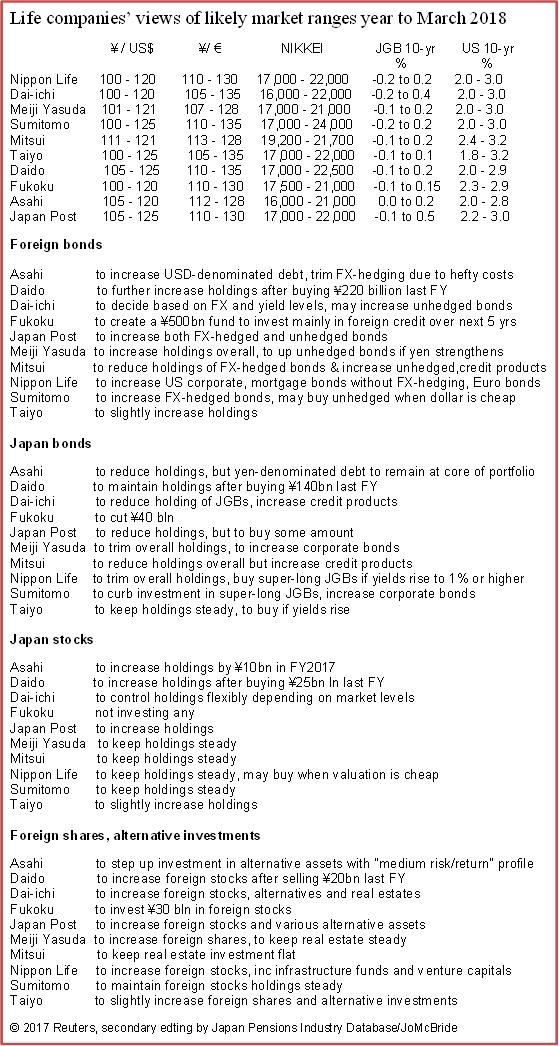 As yet there are no numbers showing the disposition of the firms' portfolios at the close of the financial year just ended but these are due soon from the Life Insurance Association of Japan. For the numbers at 31 December see archive Life cos (-Post Insurance) now have 30% of their money abroad 2017-3-21.
For the life cos' stated investment intentions at 31 September 2016 see archive Life cos invest overseas as need for yield becomes paramount 2016-11-7.
© 2017 Japan Pensions Industry Database/Jo McBride. Reporting on, and analysis of, the secretive business of Japanese institutional investment takes big commitments of money and time. This blog is one of the products of such commitment. It may nonetheless be reproduced or used as a source without charge so long as (but only so long as) the use is credited to www.ijapicap.com and a link provided to the original text on that site.

This blog would not exist without the help and humour of Diane Stormont, 1959-2012