Pension funds continue to hold more in alternatives than do other types of investor and last year accounted for a third of the US$1,330.8 billion of such investments under external management, according to Willis Towers Watson's annual study of the business.
In 2015 retirement schemes accounted for 34% of the total of US$1,240.9bn and in 2014 for 33% of US$1,138.7bn.
In both those prior years Macquarie Group's Direct Infrastructure Funds put the Australian institution atop the league table of alternatives houses by assets under management.
In 2016, however, Macquarie came in fifth with US$96.2bn — overhauled by Bridgewater Associates' Direct Hedge Funds with US$116.8bn, TH Real Estate with US$105.5bn and Blackstone Real Estate Strategies with US$ 101.9bn.
Not a sing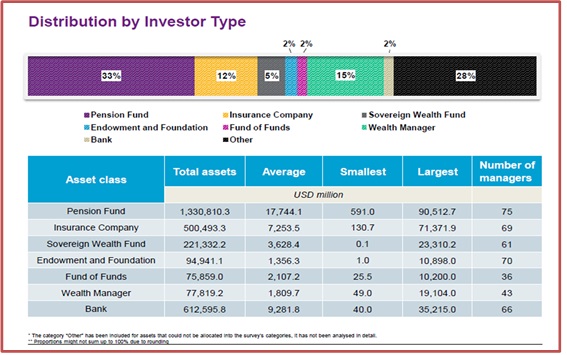 le Japanese institution appears in the top 100 alternatives managers and not many of the foreign firms which do feature have offices in Tokyo  — the capital of a country with the world's second largest pool of defined-benefit pensions savings.
Meanwhile FTSE Russell's fourth annual survey of institutional asset owners' use of smart beta (defined as an investment strategy  based on an index that is not traditionally market cap–weighted) found that 46% of 200  hundred respondents spread around the globe were deploying this approach and noted that:
"We expect growth in smart beta to continue at a robust pace, as the adoption
expectations of asset owners who are currently evaluating initial or additional smart beta allocations remains strong and satisfaction with smart beta among current users remains high. In particular, we see strong growth prospects in the usage of multifactor combination strategies and the application of ESG considerations to smart beta."
Unfortunately the only pension funds covered by the research were those associated with universities or industry-wide multi-company plans.
© 2017 Japan Pensions Industry Database/Jo McBride. Reporting on, and analysis of, the secretive business of Japanese institutional investment takes big commitments of money and time. This blog is one of the products of such commitment. It may nonetheless be reproduced or used as a source without charge so long as (but only so long as) the use is credited to www.ijapicap.com and a link provided to the original text on that site.

This blog would not exist without the help and humour of Diane Stormont, 1959-2012