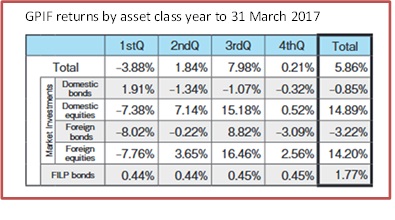 The Government Pension Investment Fund made a return of 5.86% in the year to 31 March, enjoying investment income of 7,936.3 billion yen that helped to bring its assets to a record 144,903.4bn yen, its just-published summary results show.
The Fund ended the previous year with assets of 134,747.5bn yen which added to investment income for the term just closed gives a total of 142,783.8bn yen. The 2,119.6bn yen difference between that the new total is not explained.
Returns on domestic and foreign equities, both over of 14%, overwhelmed the loses incurred on bond holdings which make up half the portfolio. The proportion of domestic bonds is now running at 35% — about what the Fund needs to ensure sufficient liquidity to pay benefits. Holdings of FILP (Fiscal Investment & Loan Program, or zaito) bonds have shrunk to almost nothing.
Performance relative to benchmarks is not shown in the summary results and details of any changes in the line-up of external managers will also have to wait until publication of the annual report later this year.
© 2017 Japan Pensions Industry Database/Jo McBride. Reporting on, and analysis of, the secretive business of Japanese institutional investment takes big commitments of money and time. This blog is one of the products of such commitment. It may nonetheless be reproduced or used as a source without charge so long as (but only so long as) the use is credited to www.ijapicap.com and a link provided to the original text on that site.

This blog would not exist without the help and humour of Diane Stormont, 1959-2012