As Japanese defined-benefit pension funds tip-toe their way across a low returns minefield seeded with opportunities which could just as easily blow up as blossom, they are increasingly favouring allocations to 'alternatives' and 'general accounts', this year's poll by JP Morgan Asset Management found.                                         Text continues below table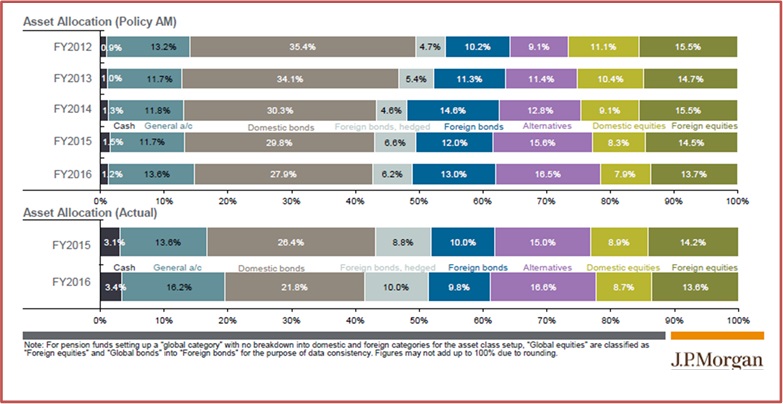 In the year ending 31 March the two segments accounted respectively for 16.6% and 16.2% of portfolios but while the commentary which accompanies the survey results probes the former in interesting detail it does not mention the latter.
Of the 122 corporate defined-benefit schemes (representing a wide range of asset sizes) and two public service mutual aid associations polled, 80% said 'yes' when asked if they felt the introduction of negative interest rates had altered the investment environment. Text continues below table

Yet 66% said their asset allocation policies had not yet shifted as a result. The changes that did happen were seen in the continued drop in domestic bond holdings, to just 21.8% of portfolios compared with 26.4% the year before and policy of 35.4% five years ago, and the rise in alternatives from 15.0% to 16.6% compared with a policy of 9.1% in 2011/12.
First placed among the leading 'key issues' driving the moves was the Bank of Japan's negative interest rate policy, which had counted for less the year before when rapid rises in volatility were at the forefront of funds' fears. That anxiety abated to be replaced with preoccupations about President Trump's policies generating rises in equity prices and rates, growing trade protectionism and fears about the impact of Brexit. Text continues below table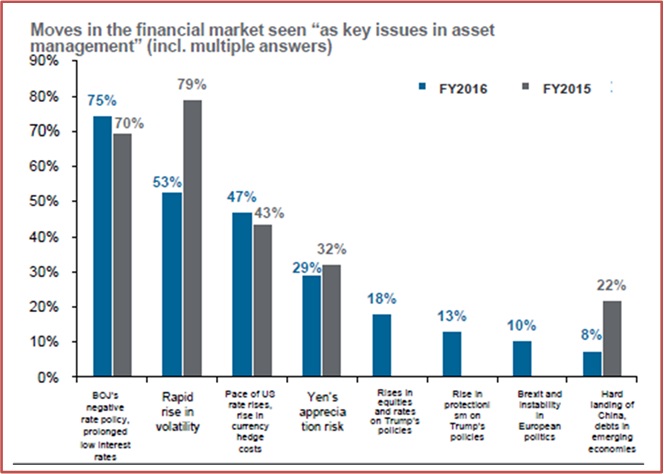 JP Morgan's report makes no mention of Japan's dire demographics nor of pension funds' need for secure liquid assets from which to pay benefits bills that now exceed their income from contributions and will do for decades to come. This makes it hard to see how the retirement schemes can run down their yen bond holdings any further.
It also makes it easy to see the attraction of investments which yield secure income directly to investors rather than through the mechanism of the stock market. Text continues below table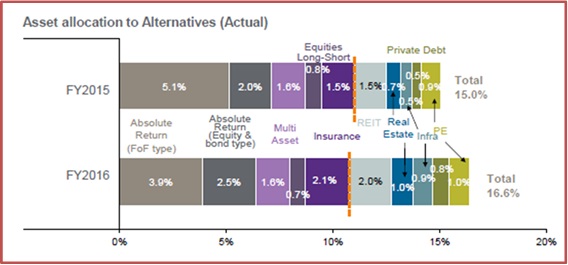 These debt investments are dubbed 'economically neutral' by JP Morgan which says nothing about the types of vehicle through which they are held. In Europe this trend now embraces the direct holding of loans made to revenue-generating projects.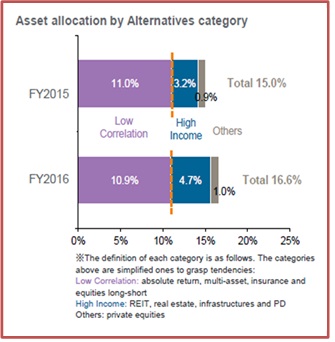 Such assets are attractive at a time when domestic and foreign equities are seen as strongly correlated and bonds perceived as linked via the foreign exchange markets. Absolute return strategies have also come to be seen as correlated with other assets and are starting to decline in popularity.
The survey found no consistent differences in  broad asset allocation patterns among pension funds of different sizes  seeking the same levels of return.

The unremarked high polling score of investing via 'general accounts' is intriguing and could suggest either a return to this type of asset management or an unusually high proportion of portfolios is being parked on the sidelines awaiting clearer conditions –  a new normal that may, or may not, one day move into view.
General accounts (called co-mingled in the US) are investment pools provided by life cos and trust banks to pension fund customers for whom they act as sokanji by undertaking all their domestic custody and administration business.
Before the deregulation which began in 1995 this was the only route through which pension funds could invest – as it was in the US before the 1975 ERISA legislation. In the decades of rolling consolidation since then both types of provider have strengthened their offerings.
The yen amounts in these accounts fell it the years ended 31 March 2016 and 2017 (see archive 17 October 2016 Pooled pensions biz holds up slightly better than segregated and 2 June 2017 Pension amounts in pooled accounts falls 4.4% to 78.5tr yen) as the number of corporate retirement schemes dropped. However, it seems that for at least the sample funds polled by JP Morgan the proportion of funds allocated in this way is rising.
This echo of simpler – and extremely low yielding – times comes as the managers of today's retirement nest eggs have, on average, already adopted 3.8 of 10 alternatives strategies on which the JP Morgan report focuses.
The study is one of three annuals that students of the sector cannot do without. The other two are the Lakyara reports from Nomura Research Institute which now has no regular month of publication and the Pension Fund Association's report on its members' (as distinct from it own) allocations which appears towards the end of each calendar year.
© 2017 Japan Pensions Industry Database/Jo McBride. Reporting on, and analysis of, the secretive business of Japanese institutional investment takes big commitments of money and time. This blog is one of the products of such commitment. It may nonetheless be reproduced or used as a source without charge so long as (but only so long as) the use is credited to www.ijapicap.com and a link provided to the original text on that site.

This blog would not exist without the help and humour of Diane Stormont, 1959-2012