Sumitom

o Mitsui Trust Holdings plans to combine the asset management operations of Sumitomo Mitsui Trust Bank and Sumitomo Mitsui Trust Asset Management Co during the financial year beginning 31 March 2018, according to an announcement from the company issued at the same time as its Q1 FY2017 results.
The first stage in the restructuring, due to begin tomorrow 1 August 2017, will be to separate Sumitomo Mitsui Trust Bank's asset management operations from its other businesses.
The Bank is one of the few institutions authorized to act as sokanji to company pension funds. All corporate retirement schemes are obliged by law to have such an advisor which as a matter of course gets all its custody and administrative work — and until 1995 all its asset management business too.
Pension sponsors rarely, if ever, change their sokanji which have become powerful gatekeepers on access to them and still manage in pooled accounts about the same amounts for them that fund managers do under segregated mandates.
By contrast the relatively new Sumitomo Mitsui Trust Asset Management has been developing a business in fund wrap and index trust products and among defined-contribution pensions.
While Sumitomo Mitsui Trust Holdings has decided on the "basic policy for the split of asset management functions from Sumitomo Mitsui Trust Bank"  it has not revealed what that is.
SMTB has recently put much emphasis on good stewardship and transparency and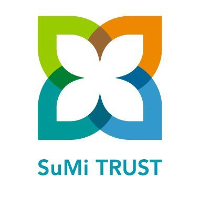 on building walls between its businesses to prevent client information leaking from to another. So it will be interesting to see how it tackles the question of behind which wall its sokanji business should reside in the restructuring.
Perhaps it will simply declare that that custody and administration are part of asset management, leaving it and its trust bank competitors free to carry on as usual in a business which has never been opened up to competition even as the number of authorised players has shrunk thanks to repeated rounds of bank consolidation.
One practical move which Sumitomo Mitsui Trust Holdings — Mitsui Sumitomo  Trust Holdings in Japanese – might want to consider meanwhile is harmonising its Japanese and English names and those of its subsidiaries. It has also recently become fond of the contraction SuMiTrust and as MiSuTrust sounds like soup it should most probably opt for the former throughout.
© 2017 Japan Pensions Industry Database/Jo McBride. Reporting on, and analysis of, the secretive business of Japanese institutional investment takes big commitments of money and time. This blog is one of the products of such commitment. It may nonetheless be reproduced or used as a source without charge so long as (but only so long as) the use is credited to www.ijapicap.com and a link provided to the original text on that site.

This blog would not exist without the help and humour of Diane Stormont, 1959-2012