In a cabinet reshuffle Katsunobu Kato  replaced Yasuhisa Shiozaki as Minister of Health, Labor and Welfare, the department which oversees Japan's corporate pension funds as well as the Government Pension Investment Fund and Serama.
There have been no explanations of Mr Shiozaki's exit just hints here and there that, at a time when allegations of nepotism have been making the government unpopular, it was time for ministers seen as close to Prime Minister Abe to go. However, as the Financial Time notes, Mr Kato is also seen as close to Mr Abe.
A former Ministry of Finance official, Mr Kato is affiliated with the revisionist  Nippon Kaigi.
Just under two years in the post, former Bank of Japan man Mr Shiozaki (pictured at right) was once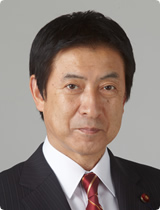 spoken of as a future leader and had interesting views on cross getting rid of cross shareholdings (see archive 2014-9-5).
Regional Revitalisation Minister Kozo Yamamoto has also been shown the door —  not the first  'architect of Abenomics' to go that way and suggesting that this is almost as dangerous a sobriquet as 'future Prime Minster'.
Earlier this week the International Monetary Fund described the principal targets of Abenomics as "out of reach" and inflation as "stubbornly low" despite the best efforts of the Bank of Japan.
© 2017 Japan Pensions Industry Database/Jo McBride. Reporting on, and analysis of, the secretive business of Japanese institutional investment takes big commitments of money and time. This blog is one of the products of such commitment. It may nonetheless be reproduced or used as a source without charge so long as (but only so long as) the use is credited to www.ijapicap.com and a link provided to the original text on that site.

This blog would not exist without the help and humour of Diane Stormont, 1959-2012