Most of the trust banks and life insurance cos managing money for pension funds in pooled accounts saw that business shrink in the year ending 31 March al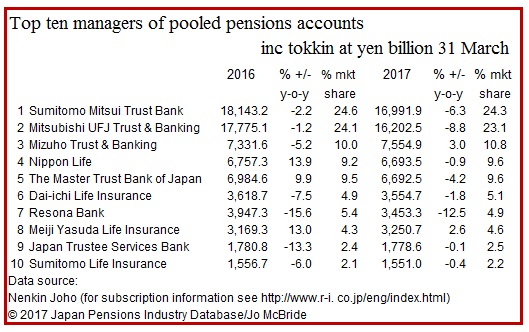 though both Mizuho Trust & Banking and Meiji Yasuda Life saw gains as did the very much smaller Fukoku Mutual Life and Mitsui Life.
Overall, assets under management in the segment fell by 4.8% to 70,684.6 billion yen, figures from industry newsletter Nenkin Joho show.
This is the second year in a row that the business has contracted, even while pension scheme amounts  awarded to asset managers under segregated mandates have grown, as recent numbers from the Japan Investment Advisors Association reveal.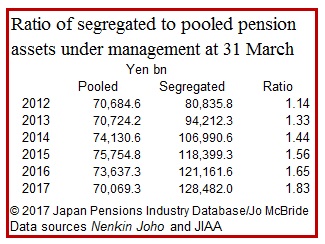 For the several years preceding the turn of the decade the amounts in pooled and segregated accounts were roughly even and the reason for the shift is not entirely clear.
What seems likely is that the money which companies handed from their workers' Employee Pension Insurance (daiko) pots, beginning in 2002, for management by the Government Pension Investment Fund, came out of pooled accounts which GPIF does not use and was therefore reinvested under segregated mandates.
Whatever the cause the balance now seems to have moved decisively in favour of segregated which now holds 1.83 yen for every 1 yen in pooled compared with 1.14 in 2012.
© 2017 Japan Pensions Industry Database/Jo McBride. Reporting on, and analysis of, the secretive business of Japanese institutional investment takes big commitments of money and time. This blog is one of the products of such commitment. It may nonetheless be reproduced or used as a source without charge so long as (but only so long as) the use is credited to www.ijapicap.com and a link provided to the original text on that site.

This blog would not exist without the help and humour of Diane Stormont, 1959-2012