The mere 1% decline in the number of pension funds using the sokanji services of trust banks and life cos in the year ended 31 March shows just how resilient a business can be – even during decades of great change — when it has never been deregulated and is closed to newcomers.
The figures come from a recent survey by Nenkin Joho, the bi-weekly newsletter published by Rating and Information, the actuarial consultancy subsidiary of the Nikkei newspaper group.      
A Japanese company setting up a pension fund for its employees must by law appoint an 'organiser' to handle its administration. This appointment is, in effect, in perpetuity and sees the appointee getting all the customer's custody business, and until recently all its fund management business as well.
Before the start of asset management liberalisation in 1995, Japanese pension fund investing was done via pooled accounts at trust banks and life cos – as it was prior to the 1975 ERISA legislation in the US where such arrangements are described as co-mingled.
Today much more money is invested under specialist mandates awarded to fund management firms (for the latest numbers see the posting immediately below)  although trust banks and life cos have also come to compete in this area either through their subsidiaries or in their own right.

Since the mid 1990s both the insurance and banking sectors have experienced waves of consolidation that have shrunk the number of players from which pension funds sponsors can make their choice, making the remaining few very powerful.
These giants have proved adept at adding to their roles that of fierce gatekeepers on access to pension funds which in Japan are staffed by non-specialist personnel rotated into their posts for a few years before being moved on. Some asset management firms have thus found it cheaper to market their services through sokanji than by talking with customers directly.
While the table below shows insurance companies as having more clients than the trust banks this is a function of small firms being required by law to sign up with insurers while the larger businesses must opt for trust banks.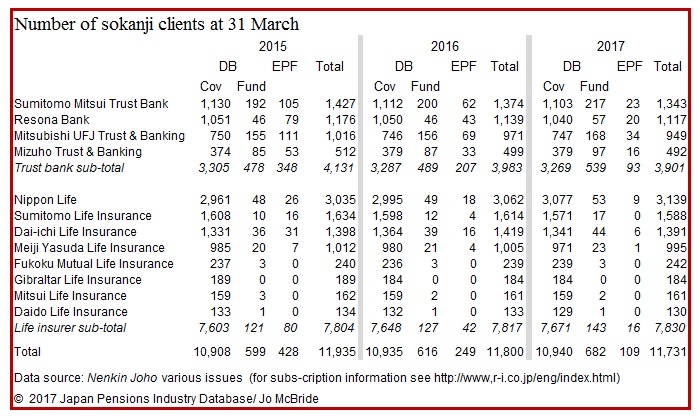 © 2017 Japan Pensions Industry Database/Jo McBride. Reporting on, and analysis of, the secretive business of Japanese institutional investment takes big commitments of money and time. This blog is one of the products of such commitment. It may nonetheless be reproduced or used as a source without charge so long as (but only so long as) the use is credited to www.ijapicap.com and a link provided to the original text on that site.

This blog would not exist without the help and humour of Diane Stormont, 1959-2012