The assets of Japan's giant life companies hit yet another record on 30 June, the end of the first quarter of the financial year, when they reached 377,700 billion yen, a 0.6% rise on three months earlier and 2.9% up year-on-year, figures from the Life Insurance Association of Japan show.
Asset allocation during the term was steady with only a few small shifts which appear readily attributable to market movements.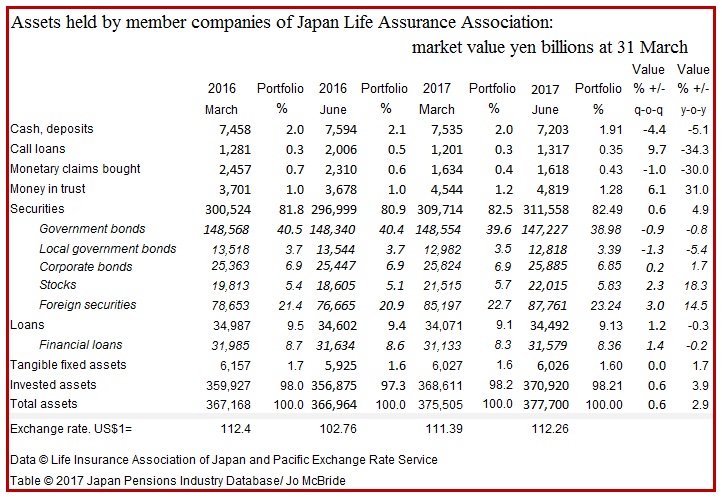 Text continues below table
The still partly government-owned Japan Post Insurance is an LIAJ member but allocates its assets differently, maintaining its bias to government bonds despite frequently recycled reports (such as here) that it is about to implement a shift into domestic stock and alternatives.
The new numbers suggest that no such change is imminent. Unlike the Government Pension Investment Fund, which brought about its own shift by putting the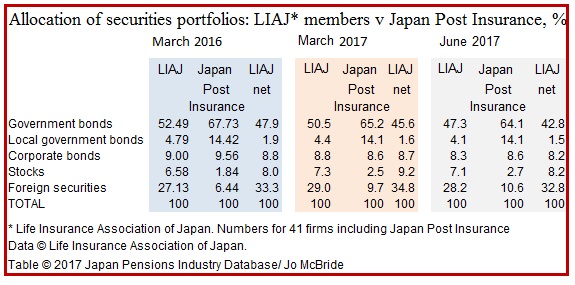 proceeds of maturing JGBs into stocks, Post Insurance appears to be directing any such receipts into foreign bonds.
The central bank also appears, for unknown reasons, to be resisting selling its government bond holdings to the Bank of Japan which the Japan Center for Economic Research forecast last November would run out of paper to purchase for monetary easing purposes about now.
Local stocks currently account for just 2.7% of Post Insurance's securities portfolio. If that were to be increased to the 9.2% average seen at other life cos (see table) the impact on the stock market would be substantial – which makes the company's frequent talking about the topic a little hard to understand since that could drive up prices before its buying begins.
© 2017 Japan Pensions Industry Database/Jo McBride. Reporting on, and analysis of, the secretive business of Japanese institutional investment takes big commitments of money and time. This blog is one of the products of such commitment. It may nonetheless be reproduced or used as a source without charge so long as (but only so long as) the use is credited to www.ijapicap.com and a link provided to the original text on that site.

This blog would not exist without the help and humour of Diane Stormont, 1959-2012