The year ending 31 March 2017 brought better times the Pension Fund  Association's portfolio which closed the term up 5.96% with assets of 132.26 trillion yen, the PFA's just-published preliminary annual report shows.
The Association manages the world's 26th biggest pool of retirement savings which is Japan's third largest, according to the latest figures from Willis Towers Watson.
All of the better performance was derived from stocks with domestic equities rising by 15.67% to reach 16.9% of the portfolio and foreign equities climbing 15.13% to 27.6%.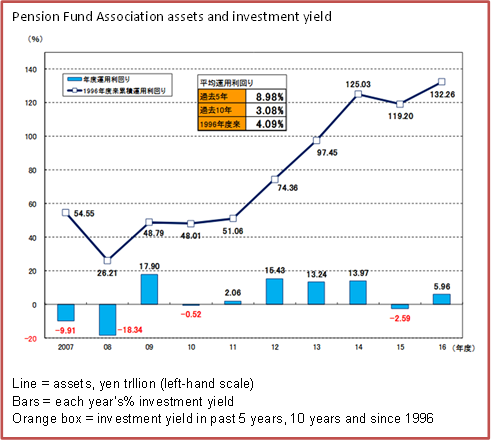 These shifts are in line with the Association's allocation mechanism which  dictates an equity:bonds split of 40%:60% when the funding level below is 100% and a 5% drop in the equities component for every 5% improvement in funding.
The PFA has no contributions income to deal with since its — until recently its only – job is to manage the accumulated pension assets of staff moving to other companies which would otherwise be orphaned.
Today it also invests the rump of some Employee Pension Funds which have been closed by their corporate sponsors. This pool of just 2.99tr yen is 21.1% in stocks and 78.9% in bonds.
The list of asset management firms handling the Association's portfolio does appear until the final version of its annual report which comes out around October (see under 'The Giants' tab at the top of this page for last year's list). They include the PFA itself which manages a large part of its domestic bond holdings inhouse.
© 2017 Japan Pensions Industry Database/Jo McBride. Reporting on, and analysis of, the secretive business of Japanese institutional investment takes big commitments of money and time. This blog is one of the products of such commitment. It may nonetheless be reproduced or used as a source without charge so long as (but only so long as) the use is credited to www.ijapicap.com and a link provided to the original text on that site.

This blog would not exist without the help and humour of Diane Stormont, 1959-2012