The just-published first quarter report of the Federation of National Public Service Personnel Mutual Aid Association, usually known by its Japanese acronym KKR, shows it to be making very slow progress in re-balancing its portfolio away from bonds — and FILP bonds at that.
As previously reported (see archive 18 May 2017 Heavy lifting on re-allocation looms for public service pension), the retirement fund has undertaken to its regulator, now the Ministry of Health, Labour & Welfare, that it will move its asset allocation into line with that of the Government Pension Investment Fund (GPIF).
Achieving this within a decade looks impossible unless the Ministry of Finance forgoes its power to have civil service retirement schemes make duty investments in, and then hold to maturity, obligations issued by the Fiscal Investment & Loan Program.  Known as zaito bonds these pay for so-called 'second budget' projects.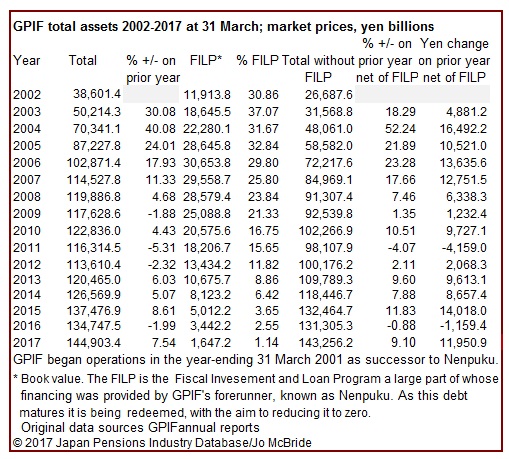 It took GPIF 11 years to run down its FILP holdings from a peak of 30,653.8 billion yen in March 2006 to 1,647.2bn yen in March 2017. As the Fund could not sell its zaito bonds it had to wait until paper matured and then invest the proceeds elsewhere. KKR seems to be taking the same route.
However, GPIF's FILP investments never accounted for 40%+ of its total portfolio as they do at KKR.                               
                                           Text continues below tables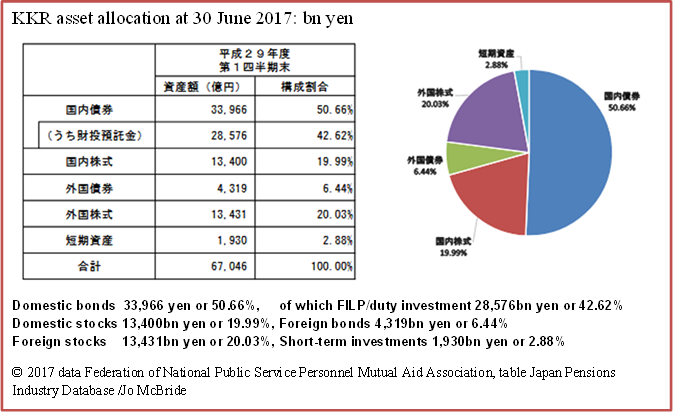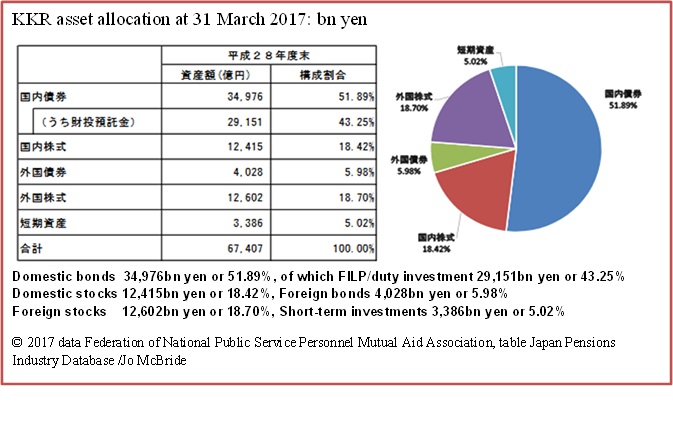 At 31 March 2017 KKR's duty holdings were 29.15bn yen or 43.25% of the total. Three months later they were 28,576bn yen or 42.62% — down only 0.63%.
Such huge illiquid investments distort the rest of the portfolio with other fixed income investments accounting for only 8%. This looks too low to meet benefits payments coming due this year and may, or may not, indicate that a large portion of FILP holdings will mature before 31 March 2018.
___________________
Sorry it is taking so long to post under 'The Giants' tab an English-language version of the table showing who was managing what for KKR at the 31 March 2017 year-end. It will be there soon. Meanwhile the Japanese-language version is here and includes lots of other interesting stuff including managers' performance.
© 2017 Japan Pensions Industry Database/Jo McBride. Reporting on, and analysis of, the secretive business of Japanese institutional investment takes big commitments of money and time. This blog is one of the products of such commitment. It may nonetheless be reproduced or used as a source without charge so long as (but only so long as) the use is credited to www.ijapicap.com and a link provided to the original text on that site.

This blog would not exist without the help and humour of Diane Stormont, 1959-2012