The Pension Fund Association for Local Government Officials, usually known as Chikyoren, made an investment return of over 5.5% on both its main accounts last year, pushing the asset value of the Employee Pension Insurance Benefit Adjustment Fund to 10,461.3 billion yen by 31 March and the Transitional Long-term Benefit Retirement Fund to 10,969.5bn, according to its latest annual report.
Civil service mutual aid associations, including Chikyoren, have been steadily reorganised in recent years so that the structure and benefits of the pensions they manage is more aligned with those of private sector workers which have also been streamlined.
The Employee Pension Insurance Benefit Adjustment Fund manages the equivalent of what was known in the corporate context as the daiko (and which companies have now mostly handed over to the Government Pension Investment Fund) while the Transitional Long-term Benefit Retirement Fund handles the equivalent of former Employee Pension Fund assets.
Both accounts slightly under-performed their local and foreign equities benchmarks during the year.
By contrast Japan Government Bond holdings performed well because the duration of "domestic bonds held as part of the mandatory investment was shorter than the duration for the benchmark, which kept the rate of [a] price drop due to an interest rate rise [after the US presidential election in November 2016] lower".
Text continues below tables


It is, presumably, the 'mandatory investment' imposed on civil service pensions by government many years ago and still not lifted — despite the current Bank of Japan policy of buying up this debt — that is keeping both accounts' allocations to domestic bonds at around 40% while that of GPIF, with which they are supposed to be falling into line, is around 30%.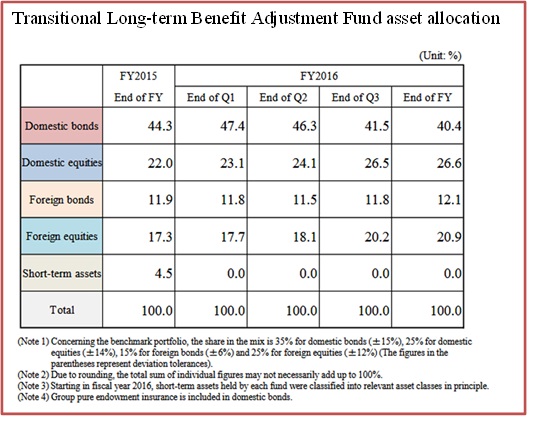 © 2017 Japan Pensions Industry Database/Jo McBride. Reporting on, and analysis of, the secretive business of Japanese institutional investment takes big commitments of money and time. This blog is one of the products of such commitment. It may nonetheless be reproduced or used as a source without charge so long as (but only so long as) the use is credited to www.ijapicap.com and a link provided to the original text on that site.

This blog would not exist without the help and humour of Diane Stormont, 1959-2012