F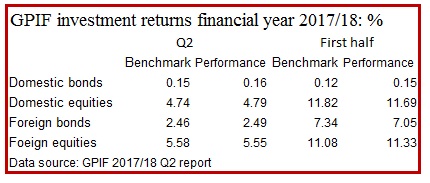 und management firms hired by the Government Pension Investment Fund  brought home the bacon again in the July-September quarter — keeping putting all components of the world's largest institutional investor's portfolio ahead of their benchmarks for the first half of the 2017/18 financial year.
At the same time the Fund has begun inviting proposals for ESG indices to be applied to passive investment in foreign equities which it proposes to begin next year.
On 30 September GPIF had assets of 156.81 trillion yen on investment income for the quarter just closed 4.45tr, a rate of return of 2.97%.
Asset allocation remained almost the same as at the end of the previous financial year with a continuing shift out of bonds which is usually done by investing the proceeds from maturing Fiscal Investment and Loan Program (FILP) paper elsewhere in the portfolio.
* In Japanese only. The contact for information is chosa@gpif.go.jp A Nikkei story on the invitation is here.
© 2017 Japan Pensions Industry Database/Jo McBride. Reporting on, and analysis of, the secretive business of Japanese institutional investment takes big commitments of money and time. This blog is one of the products of such commitment. It may nonetheless be reproduced or used as a source without charge so long as (but only so long as) the use is credited to www.ijapicap.com and a link provided to the original text on that site.

This blog would not exist without the help and humour of Diane Stormont, 1959-2012