Tokyo's asset management firms enjoyed a steady second quarter, figures from the Japan Investment Advisors Association show, with mandates in issue up 1.3% to 7,319 and assets under management rising 3.0% to 2,285,192 billion yen with a good part of that gain coming from rising stock markets at home and abroad.   Text continues below table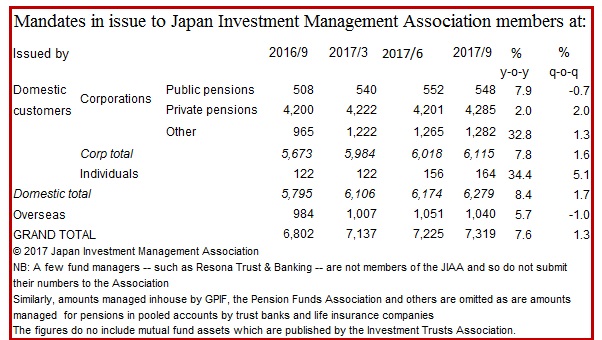 The numbers for domestic mandates cover mostly pensions business but that segment accounts for only around 6% of the business from abroad. Text continues below table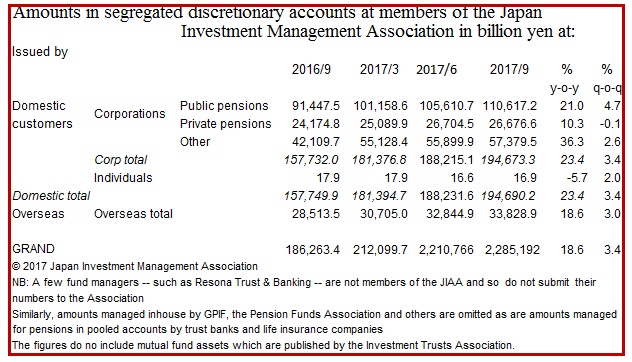 At the close of the quarter on 30 September each mandate in issue covered an average of 312.2bn yen in assets but the wide difference remains between those awarded by public pensions (including the Government Pensions Investment Fund which handles  the contributions of the populace to the national basic pension) and those from company-based schemes.
Each public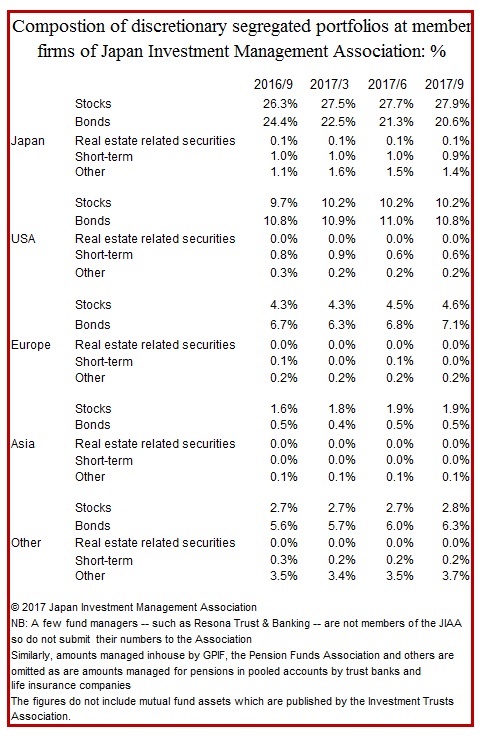 mandate represented assets of 201.9bn yen at the end of the term compared with 6.2bn yen for each private mandate. However the fees on the former are wafer-thin.
Asset allocation also held steady with a slight rundown of amounts in 'short-term' investments except for those in Asia which rose mightily but from a very low base.
© 2017 Japan Pensions Industry Database/Jo McBride. Reporting on, and analysis of, the        (text continues below table).
secretive business of Japanese institutional investment takes big commitments of money and time. This blog is one of the products of such commitment. It may nonetheless be reproduced or used as a source without charge so long as (but only so long as) the use is credited to www.ijapicap.com and a link provided to the original text on that site.

This blog would not exist without the help and humour of Diane Stormont, 1959-2012