Financial conglomerates, pharmaceuticals companies and a sprinkling of technology firms dominate the list of Japan's top 20 corporate pension funds by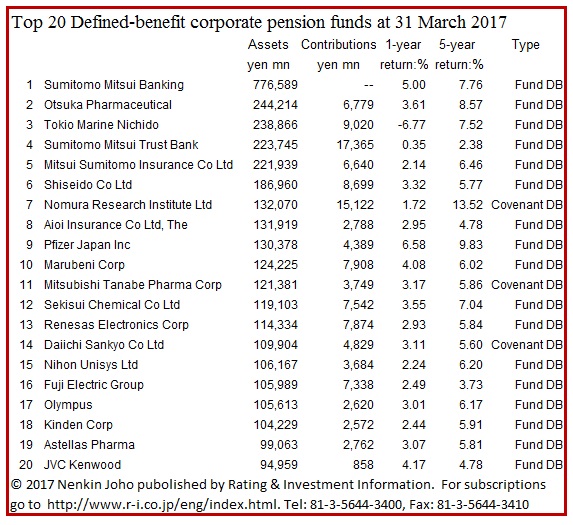 assets under management, according to an annual poll Nenkin Joho, the fortnightly newsletter published by Rating & Investment Information, the actuarial consulting subsidiary of the Nikkei.
Replying to R&II's questionnaire is purely voluntary and just under 300 retirement schemes responded out of the total potential universe of 13,500 fund-type and covenant-type defined-benefit schemes in existence at the end of the financial year on 31 March 2017. A smattering of Employee Pension Fund arrangements, which are being phased out as their affairs become satisfactorily resolved, also replied.
Just how omissions might have skewed the compilation may be guessed at by the absence of Hitachi Ltd. The company has not sent back a questionnaire since the year ending 31 March 2013 when it had assets of 812,924 million yen —  well ahead of currently first ranked Sumitomo Mitsui Banking's 776,589mn yen.
On the basis of data submitted, the top funds by annual contributions income were Sumitomo Mitsui Trust Bank with 17,365mn yen, Nomura Research Institute with 15,122mn yen and Tokio Marine Nichido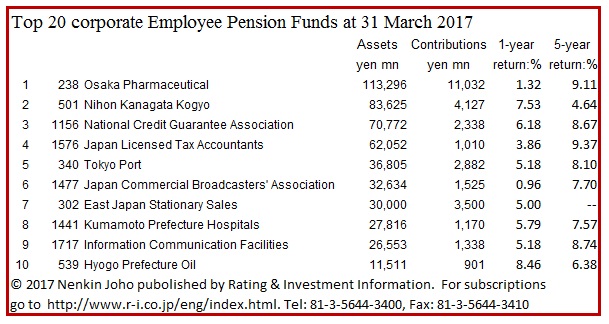 with 9,020mn yen. Construction concern Haseko came in fourth with 8,527mn yen in yearly contributions but is only 42nd by assets with 54,031mn yen. It enjoyed a return of 3.14% in the year under review but an adjusted average of 6.01% per annum over the past five years.
Tokio Marine Nichido, and insurance concern, third by assets, was one of the very few to end the term with a loss — being 6.77% down though 7.52% up on a five-year basis.
© 2017 Japan Pensions Industry Database/Jo McBride. Reporting on, and analysis of, the secretive business of Japanese institutional investment takes big commitments of money and time. This blog is one of the products of such commitment. It may nonetheless be reproduced or used as a source without charge so long as (but only so long as) the use is credited to www.ijapicap.com and a link provided to the original text on that site.

This blog would not exist without the help and humour of Diane Stormont, 1959-2012